Watch: Christian Atsu's final moment as a player was free-kick winner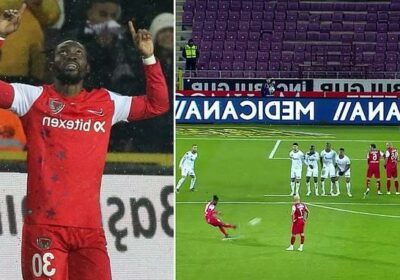 WATCH: Christian Atsu's final goal was a match-winning free kick for Turkish club Hatayspor just hours before the devastating earthquake struck… with the ex-Premier League star's body now found under rubble
Former Newcastle player Christian Atsu was found dead on Saturday morning
Video has now surfaced of the Ghanaian winger's final moments as a footballer 
In his last touch for Hatayspor, Atsu netted a superb match-winning free kick 
Christian Atsu's last touch as a footballer was scoring a brilliant free-kick, a touching video has revealed, after the player was found dead on Saturday morning.
The 31-year-old Atsu's body was found under rubble 12 days after a devastating earthquake in Turkey.
He played for Hatayspor in Antakya, Hatay Province, which was affected heavily by the natural disaster in southern Turkey and northern Syria which is known to have killed more than 40,000 people.
And heartwarming footage has emerged of Ghanaian Atsu's final match, a 1-0 win against Kasimpasa on February 5.
The former Newcastle winger stepped up in the 97th minute to take a set piece – before bending it into the corner to spark wild celebrations. 
Heartwarming footage has emerged of Christian Atsu's final moments as a football player (left)
Former Newcastle winger netted a fine match-winning free-kick for Hatayspor on February 5
Ghanaian Atsu, 31, has been found dead following the devastating earthquake in Turkey
The referee blew the final whistle seconds later, confirming a crucial victory for Hatayspor, who moved out of the relegation zone and one point ahead of opponents Kasimpasa in the battle against relegation.
His strike led to joyous scenes, with fans and coaches jumping for joy, and team-mates mobbing Atsu to congratulate him. 
CHRISTIAN ATSU  
Born: January 10, 1992, Ghana
Clubs
Porto: 2011-2013
Rio Ave (loan): 2011-2012
Chelsea: 2013-2017
Vitesse (loan): 2013-14
Everton (loan): 2014-15
Bournemouth (loan): 2015-16
Malaga (loan): 2016
Newcastle (loan): 2016-17
Newcastle (permanent): 2017-2021
Al-Raed: 2021-22
Hatayspor: 2022-23 
Hatayspor have since pulled out of the Super Lig, the top-flight division in Turkey.
Atsu had been missing since the 7.8 magnitude earthquake that took place in the early hours of the morning of February 6.
However, one of his agents has now confirmed his body had been discovered under the rubble.
Murat Uzunmehmet revealed the devastating news 12 days after the disaster struck.
He told reporters on Saturday: 'Atsu's lifeless body was found under the rubble. 
'Currently, more items are still being taken out. His phone was also found.'
Another of Atsu's agents – Nana Sechere – also announced the news.
'It is with the heaviest of hearts that I have to announce to all well wishers that sadly Christian Atsu's body was recovered this morning,' he said. 
'My deepest condolences go to his family and loved ones.
'I would like to take this opportunity to thank everyone for their prayers and support.'
Atsu's club Hatayspor called him 'a beautiful person', saying there were 'no words to describe our sadness'.
'The funeral of our football player Christian Atsu, who lost his life under the collapse, is on his way to be sent to his hometown Ghana,' they said on Twitter – as they blacked out their profile picture. 
'We will not forget you, Atsu. Peace be upon you, beautiful person. 
'There are no words to describe our sadness. Rest in peace. 
The Ghana international's whereabouts were unknown following the 7.8 magnitude earthquake
Relatives of Atsu waited to receive news as search and rescue operations in Turkey took place
Atsu enjoyed an extremely impressive career and featured for Newcastle and Chelsea (right)
Source: Read Full Article