'Until you're dead, you're not': US team to continue Cup prep after capsize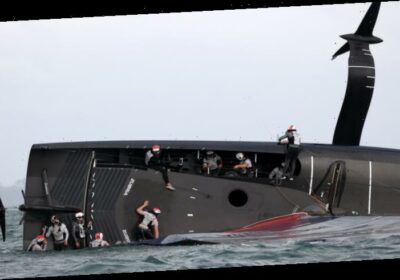 United States challengers American Magic are assessing the extent of damage to their race yacht Patriot, which capsized and came close to sinking during racing Sunday in the America's Cup challengers series.
Skipper Terry Hutchinson said American Magic are confident of making repairs and being able to continue in the Prada Cup series, which resumes on Friday.
Members of the American Magic team attempt to save their yacht Patriot after it capsized in Auckland on Sunday.Credit:Getty
"I've always been confident in Patriot and the performances she's shown and I think we'll have to keep it in perspective: we're here, no one was hurt which is a major bonus and we go forward from there. It's the America's Cup; we have to be prepared to fight for it and we will."
Hutchinson thanked those who raced to Patriot's assistance, including America's Cup defender Team New Zealand which helped to save Patriot and tow it back to base, providing pizza for the tired and hungry crew.
"I do need to make sure I say thank you to the local authorities — the fire department and the police — and particularly to Team New Zealand, Luna Rossa and Team Ineos for the support they gave us on the water," he said.
"Team New Zealand in particular helped tow us back to the dock for three-and-a-half hours.
"In these moments, you get the true sense of what competitors can do for you and how we should all treat each other. They showed a great display of sportsmanship."
AP
Sport newsletter
Sports, results and expert commentary delivered straight to your inbox. Sign up to the Herald's weekday newsletter here and The Age's weekly newsletter here.
Most Viewed in Sport
Source: Read Full Article