Tyson Fury's post-fight press conference CANCELLED after Gypsy King humiliated by Ngannou in controversial bout | The Sun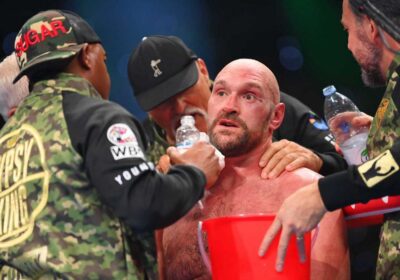 TYSON FURY'S post-fight press conference was CANCELLED following his highly controversial win over Francis Ngannou.
The Gypsy King, 35, was expected to comfortably deal with the former UFC heavyweight champion, 37, who was making his professional boxing debut.
But a stunned crowd in Saudi Arabia watched Ngannou floor Fury in the third round with a cuffing left hook to the top of the head.
WBC champion Fury, whose belt was not on the line, beat the count and saw out the 10 rounds, before the judges awarded him a split-decision win.
However, the result has been much-disputed, with many believing Ngannou did enough to pull off the astonishing upset.
And such was the underwhelming nature of Fury's performance, his post-fight presser was called off.
READ MORE IN BOXING
Fury road
Fans not sure who the MMA fighter is as Fury performs illegal move on Ngannou
LAMBO
Win a Lamborghini or £180,000 cash alternative from just 80p with our discount code
Had it gone ahead, it was reportedly set to be a lavish event as Fury prepared to take on Oleksandr Usyk on December 23.
But there are now doubts as to whether the undisputed clash will go ahead as planned.
Usyk was ringside for Fury-Ngannou and was left stunned when the WBC king was dropped in the third round.
When asked after the fight about the date for the Usyk clash, Fury said: "Listen, I'm gonna go home, I've been in training camp now for 12 weeks. I've got a long tough old camp in.
Most read in Boxing
FURY VS NGANNOU
Usyk fight in limbo as Gypsy King REFUSES to confirm December bout
'ROBBERY'
Lineker & Eubank Jr slam decision as fans claim Fury vs Ngannou is 'RIGGED'
TY SHAKER
Fury survives KNOCKDOWN as he labours to points win over Francis Ngannou
Fury road
Fans not sure who the MMA fighter is as Fury performs illegal move on Ngannou
CASINO SPECIAL – BEST CASINO WELCOME OFFERS
"I'm gonna go home, take a long hard rest and then we'll see what's next for us."
Fury's promoter Frank Warren said: "He's gonna rest up, that's what's gonna happen next and then he's gonna make a decision of what he wants to do because he's the boss."
Usyk was later jettisoned into the ring and went face to face with Fury.
Fury was more buoyant by the time the two squared up and said: "Listen, it's been going on a long time. We were supposed to fight in April at Wembley. It never happened. Let's do the fight over here [Saudi Arabia].
"His excellency Turki Al-Sheikh is going to put the fight on for all the belts, the undisputed heavyweight championship of the world. Let's go my brother, let's go."
Usyk put it more simply, adding: "Let's go."
Presenter Josh Denzel then put it simply and said: "Will the fight be on December 23? It's been touted across the boxing world. Will we see it on that date?"
Fury replied: "Listen it's not up to me, I'm a fighter and he's a fighter. I'm sure we could go now. Let's go now if you want!"
Denzel then turned to Usyk and said: "Can we agree 23rd of December?"
Read More on The Sun
marriage over
James Haskell breaks his silence on shock split from Chloe Madeley
SEE FOR YOURSELF
Bizarre cat litter & sock hack will stop car windows fogging up in winter
A slightly confused Usyk replied: "Oui."
Warren then went on to cast doubt on the December 23 date once more by admitting they could not commit until a cut on the top of Fury's head had been assessed.
Source: Read Full Article