Tyson Fury CONFIRMS he's back in talks with AJ for a September bout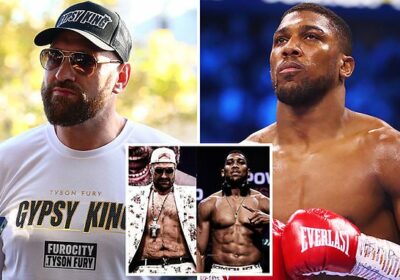 Tyson Fury CONFIRMS he's back in talks with Anthony Joshua for a September bout at Wembley and reveals he's sent AJ a 'draft contract' after negotiations for Battle of Britain clash broke down last year
Fury has taken to social media to confirm he's back in talks with Anthony Joshua

The Gypsy King says he sent AJ a 'draft contract' for a proposed September bout 

Fury and Joshua had been locked in talks over a Battle of Britain bout last year 
Tyson Fury has taken to social media to confirm he's back in talks with Anthony Joshua for a September bout at Wembley and even admitted to sending AJ a 'draft contract' earlier in the week.
Fury and Joshua had been locked in talks over a Battle of Britain bout last year but discussions broke down after the Gypsy King grew impatient waiting for AJ to sign the contract. 
Negotiations over the highly-anticipated bout had been ongoing for months before both parties declared the fight – which was scheduled to take place on December 3, 2022 – was officially off the cards. 
The Gypsy King said he was furious at AJ for 'wasting his time' and stated he would never fight the 32-year-old in the future as a result.
However, Fury has made a sensational U-turn and posted on Instagram to confirm he is back in talks with AJ over a September bout and even admitted to sending Joshua a 'draft contract'. 
Tyson Fury has taken to social media to confirm he's back in talks with Anthony Joshua
Anthony Joshua (pictured) has been told by Fury that the 'ball is now on his side'
The Gypsy King confirmed the news as he captioned a picture of himself and AJ: 'A few days ago i sent a draft contract to Anthony Joshua for a fight in September.
'It's a fight that everyone wants to see including myself. Come of AJ lets give the world what they want to see. 
'This time I'm not gonna make a million vids and keep putting pressure on. The ball is now on your side.'
His heavyweight opponent is yet to respond to the social media message that has so far received over 35,000 likes in under 30 minutes as British boxing fans dream of a heavyweight showdown between two of the nation's best fighters.
Joshua is represented by Eddie Hearn's Matchroom Boxing and negotiating a title fight with Fury could require renewed extensive negotiations as both parties attempt to settle on a purse split between the two contenders.
Fury reportedly sent a 60/40 split agreement to Joshua as recently as September at a time when Hearn confirmed that discussions to make the fight happen were ongoing.
The heavyweight world champion's stated intent to resurrect a fight with Joshua might be too late however. Joshua's camp revealed on Thursday that they were targeting an August date for his next appearance.
Hearn has been in discussions over an end-of-year mega-fight with fellow British heavyweight Dillian Whyte, but, the opportunity of a showdown with Fury could put that to the wayside. 
Joshua (right) and his promoter Eddie Hearn (left) will have to scrutinise any offer sent to them
Fury (left) has previously made a series of antagonising statements to potential opponents on social media
Agreeing a deal with Fury could be Joshua's last chance at regaining his world heavyweight crown after he lost his IBF, WBA and WBO belts to Oleksandr Usyk.
There was previous hope that Usyk and Fury could meet in a unification showdown, however, talks quickly broke down, with no date currently on the cards.
Meanwhile, Usyk is preparing to defend his heavyweight titles against mandatory challenger Daniel Dubois.
The Ukrainian's promoter Alex Krassyuk confirmed earlier today that that they have won the purse bid for that fight which will take place in Poland on August 12 in Poland.
Source: Read Full Article