Trade period: Which stars to buy and sell in the world sport sharemarket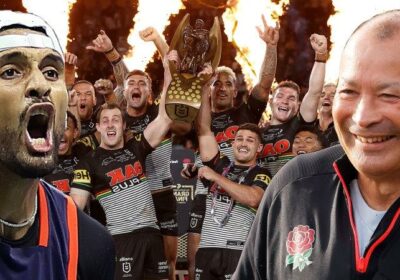 With the Treasurer's mini-budget out, it's that time of the year for our annual sports-stock tips guide, giving you what used to be the "good oil" and is now the "better wind farm" on which shares to hold, buy and sell.
Thus, without further ado . . .
Rugby union, rugby league and AFL. Sell. Yes, all of them are profitable right now – particularly league and AFL – but, in my view, none has yet fully grasped the significance of the concussion lawsuits coming their way, particularly the NRL. Every month, that cloud on the horizon gets darker and closer, and the rumbling thunder gets louder. That grim forecast notwithstanding, there are a few canny deals within those codes still to be done. Read on . . .
Swans. Sadly, I think sell. The logic of history for teams that make the grand final only to get an absolute thumping is not kind – and that one last month against Geelong was so bad you'd almost expect them to have post-traumatic stress next season. Somewhere, lurking in the back of their minds, must be the thought that: "If we go really well in the regular season, we might find ourselves out there with 18 roaring chainsaws again". You'd expect it'll be some time before they recover. (Think of what happened with the GWS Giants in the 2019 grand final. First pantsed, they were then publicly spanked by 89 points and, without being unkind, have barely been heard from since.)
Eddie Jones. Buy. Pretty much the only thing he does not have on his rugby resume is being a World Cup-winning coach. But he remains the most accomplished team supremo in the game and my pound to your peanut says he will take over the Wallabies after next year's World Cup and lead them all the way to a home World Cup final in 2027.
Penrith. Hold. Yes, they are a blue-chip stock, and yes they have won two premierships on the trot, but they will likely win at least a third. But everyone knows that and in no way are they undervalued. They are a solid part of your portfolio and insurance that, even if the stockmarket collapses, you won't lose everything.
Eddie Jones, the Penrith Panthers and Nick Kyrgios. Credit:Getty
Waratahs. Buy. That new coach they all talk about, Darren Coleman, has laid the foundations. Next season will be their best in many years. You heard it here first.
Socceroos. Buy, in the short term, and sell when hope is at its highest. Not that you'd know it, but they are about to play in the World Cup in three weeks or so. When they do, they will be all the rage – as they are every time they make the tournament – and their graph will rise. They have, and no mistake, done brilliantly well just to get there. But be clear-eyed about this. Judge the moment when we are all thinking, "They just might take this a bit further this time" and sell.
A-League. Sell. It all looked so promising a few years ago, like the "slumbering giant" had at last awoken, but can we not all agree that it has since lost its way? Where there used to be a buzzzzzz there seems now more a zzzzzz. Or am I being unfair?
Des Hasler.Credit:Matt King/Getty
Anthony Griffin. Sell! Sell! Sell! The cards of the Dragons coach were marked from the moment only three out of 30 players turned up to the end-of-season awards night. He might make it to three games next season still as coach, but is unlikely to go beyond that. On balance, you've got to know when to hold 'em, know when to fold 'em, know when to walk away, know when to run away screaming – and this is one of those times.
Des Hasler. Buy. Who else will the Dragons get to clean up after Griffin? And we know he's free! Whatever else they say about Des, he raises players that love him, who want to play for him, and that is what St George Illawarra most need right now.
As to other sports, and sportspeople . . .
Josh Giddey. Buy big. Still only 20 years old, the Melburnian is one of the emerging stars of the NBA and seems to have the character and personality not to lose his way.
Ben Simmons. Sadly, sell, for whatever you can get.
Minjee Lee. Buy! Still under-celebrated in this country, she won the 2022 US Open, and at only 26 could still have a career to rival that of Karrie Webb.
Nick Kyrgios. Hold. Yes, if you'd bought stocks in him last year, you'd have made a pretty penny given his outstanding year, which included a Wimbledon final. It's just a question of whether he has more unforeseen growth in him. Look, I would have thought so, but I remain more than a bit troubled by that complete meltdown he had after being knocked out of the US Open. He had earned so much goodwill for his extraordinary play, only to blow it away in 30 seconds of racquet-trashing madness. Against that? Well, against that he still could be the McEnroe of his era if he can just master his mental game.
Netball. Buy. Take advantage of the recent crash in their stock price after the Hancock Prospecting imbroglio. That won't last. The overall goodwill to them is phenomenal, and it means the next major sponsor to come on board will get enormous exposure. All up, the game is being presented ever more professionally and attracting ever more followers. The challenge for netball has always been to find a way to convert the extraordinary number of Australians who have played the game into spectators who will follow it and care about the national team. That graph is on the way up and, ultimately, that will see them through this.
Test cricket. Sell. It has been all but completely eaten by …
T20 cricket. Buy. I hate it. But I seem to be in an ageing minority.
One-day cricket. Sorry, never heard of it.
@Peter_Fitz
Sports news, results and expert commentary. Sign up for our Sport newsletter
Most Viewed in Sport
From our partners
Source: Read Full Article