Top Snowboarders Face a New Challenge: Freestyle in the Backcountry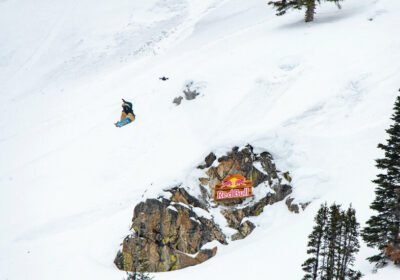 It was a powder day at Jackson Hole Mountain Resort in Wyoming, and Sage Kotsenburg, the champion in men's slopestyle at the 2014 Olympics in Sochi, Russia, was riding free. He carved a path through frosted trees to a snow-covered ramp, took off, twirled one and a half times, stuck the landing and kept going.
Kotsenburg, 27, was competing in the debut of a snowboarding tour called Natural Selection, founded by a professional snowboarder, Travis Rice, 38. The event in Wyoming was a two-day affair. Other tour stops in March: one last week in the Valhalla Mountains, at a site in Nelson, British Columbia; and one in the Tordrillo Mountains in Alaska. When the events are over, Rice said, the new format will crown the best all-around snowboarders in the world.
The format demands the acrobatics of freestyle snowboarding with its ramps and constructed features and enough know-how to navigate backcountry hazards and land big jumps in fresh powder without cartwheeling down the mountain or sinking like a submarine.
Rice recruited an intriguing roster of athletes to Jackson Hole, including decorated Olympians and X Games champions like Kotsenburg, Mark McMorris and Jamie Anderson, and free riders like Gigi Ruf of Austria and Robin Van Gyn, a backcountry guide in Canada.
There were no practice runs allowed at Natural Selection, and the point wasn't to hit every feature. Part of the game is choosing a line that others can't see and landing as many tricks as possible to impress the judges. Until Ruf laid down the first tracks that morning, nobody had ridden the course, which took three years to design and build.
Each run, Rice hinted, was an equation to be solved. "With just a glance downhill," he said, "you need to judge how much speed you need, how much pop, and anticipate which tricks you can do, depending on maximum snow conditions."
The snowboarders largely made their names on man-made slopestyle courses, in the halfpipe and Big Air. That type of riding is known as freestyle, where riders pull off jaw-dropping aerials in a groomed, so-called park, setting.
But there were also free riders in the draw better known for shredding steep slopes beyond the boundaries of groomed runs. They slalom trees; launch off cliffs; build jumps from downed trees, boulders and snow; and ride spines so steep and cinematic that they boggle the mind.
In both settings, the degree of difficulty and athleticism is high, and the risks perilous, but these days halfpipes are disappearing from the big resorts, and young riders are increasingly drawn to the authentic experience of riding free on natural terrain. It's a trend that can be traced to the influence of Rice.
McMorris, 27, who has won 20 medals in X Games, four United States Open championships and two Olympic bronze medals, called Rice, who is considered one of the first riders to demonstrate a mastery of both park and the backcountry, "the world's best snowboarder."
Rice grew up in Jackson, Wyo. His father was in the ski patrol, and his mother put him on skis not long after he learned to walk. Snowboarding captured his imagination when he was 12. "All I wanted to do was ride park," he said, "but we didn't have a park in Jackson at the time."
He became a star at 18, shortly after his first competition. But even during his most competitive years, Rice felt called to the backcountry. He tagged along with riders who knew the mountains better than he did, and started attempting park tricks in the wild.
In a 2011 film, "The Art of Flight," Rice proved it was possible to land freestyle acrobatics in the Tordrillos, Patagonia, the Grand Tetons and in the British Columbia backcountry, revealing a blend of acrobatics and adventure that he described as "full spectrum snowboarding."
Natural Selection is full spectrum snowboarding as competitive sport, and Rice made sure it had a progressive edge. When the athletes arrived in Jackson, after they'd been tested for the coronavirus, they were ushered into a bubble, where Rice handed them a thumb drive that included a virtual reality map of the venue. They could navigate the course and visualize their runs using VR headsets. Two days before the event, they were led on a snowshoe tour through the trees, so they could examine some of the features up close.
Racing drones followed the athletes to capture video of the runs, which had a familiar video game quality when broadcast live. Arcs of fresh snow sprayed from the rails of Kotsenburg's board as he accelerated down a slope packed with more than 60 hidden features: wooden ramps, wedges and bridges, boulders and an 80-foot step-down, all of them invitations to fly.
Not every big name emerged from the early heats, which were organized in a bracket similar to a tennis draw. Four feet of snow followed by unforeseen wind conditions made landings tricky, at least on that day. Anderson, a two-time Olympic champion, was bounced in the first round. Kotsenburg bowed out in the quarterfinals.
But the highlights were special. Blake Paul went 120 feet to claim the biggest air of the week, and Mikkel Bang purposely tapped the top of a rock wall with his board and stuck the landing. But the best heat of the day was the quarterfinal battle between Rice and McMorris.
McMorris blitzed him in their first heat. To force a tiebreaker, Rice needed to pull out something special. Near the bottom of his second run, he unleashed a double back flip, something nobody else had attempted, but his landing was not clean and McMorris edged him out.
"When you're going up against Mark, you've got to put something down," Rice said.
"I was so impressed that he went for that double," said McMorris, who went on to land a flawless double back flip in the finals to win the competition. "He might have opened the door and said this is possible."
But the biggest score and surprise of the day belonged to a wild card from New Zealand. Zoi Sadowski-Synnott, who turned 20 Saturday, won Olympic and X Games medals in 2018 and 2019, but had ridden powder only once this season when she was called to Jackson. She soaked up knowledge in the days leading up to the competition.
In a spirit of camaraderie that characterized the competition, after Sadowski-Synnott defeated Hana Beaman in the semifinals, Beaman reminded her that the features were smaller than she might think. She advised her to be conservative on the approach and then explode.
In the finals, against a free-riding world champion, Marion Haerty of France, she did just that, combining big air and a wildcat back flip with a backside 360 to claim the women's crown. Her win earned her a ticket to Alaska, where she will ride a 1,600-foot slope and compete in the Natural Selection finals, and at least for now subverted the assumption that experience would be the determining factor in who took home the title.
She is excited to ride in Alaska, she said, but admitted to being nervous. "I'm going to be studying a lot of video parts in the next few weeks," she said, "especially Travis's."
Source: Read Full Article