Tokyo Olympics LIVE updates: Boomers through to semis, gold awaits in sailing, Minjee Lee leads golf charge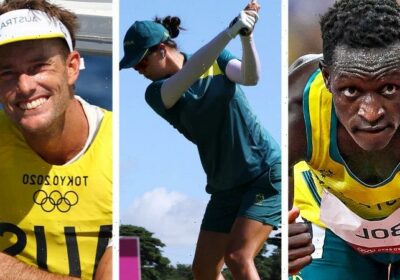 Key posts
The Aussies to watch today
An early start for Australia in marathon swimming, golf
Australia's campaign for today is already under way. Queenslander Kareena Lee has just started her race in the 10km marathon swim at the Odaiba Marine Park. She's the only Aussie in the field.
And then in just under an hour's time, the first round of the women's golf tournament begins. Australia's hopes are Hannah Green and Minjee Lee, who won the Evian Championship in France last week and is considered a strong chance at a medal.
Minjee Lee won her first major tournament just before the Olympics.Credit:Getty
That was her first major title, so it's hard to imagine a better lead-in for her.
Why Australia has a red hot chance against Team USA
It's a huge clash coming up tomorrow night for the Boomers against the might of Kevin Durant and a Team USA line-up packed with NBA stars.
However, Argentina legend and five-time Olympian Luis Scola has given Australia a real chance after they knocked off the South American outfit last night.
Luis Scola hugs the Boomers' head coach Brian Goorjian after the match.Credit:Getty Images
"The US is coming prepared, they really want it but I do believe Australia has a chance," he said. "They have got a very good team. Patty Mills is a tremendous leader, tremendous player. They have a shot. They have to play the right way, play a good game but they have the possibility to do that.
"It's not going to be easy but they beat the USA in the preparation [tournament]. This could be the year."
Read more from Roy Ward here.
The Aussies to watch today
Here are all of the Australians in action today:
Athletics: Morning session 10am: from Men's Decathlon first five events (Ash Moloney, Cedric Dubler); Men's 110m Hurdles semi-finals (Nick Hough, noon). Evening session from 7.30pm: Women's 1500m semi-finals (Linden Hall, Jessica Hull, 8pm); Women's 3000m Steeplechase final (Genevieve Gregson, 9pm); Men's 800m final (Peter Bol, 10.05pm).
Peter Bol will race for gold in the 800 metres on Wednesday night.Credit:Getty Images
Marathon swimming: Women's 10km (Kareena Lee) from 7.30am.
Canoe sprint: Women's Canoe Single 200m (Bernadette Wallace, 11.12am), Women's Kayak Single 500m (Catherine McArthur, 11.54am), Men's Kayak Double 1000m (Riley Fitzsimmons, Jordan Wood, from 12.22pm)
Golf: Women's Individual, First round (Hannah Green, Minjee Lee) from 8.30am
Skateboarding: Women's Park Preliminaries and Final (Poppy Star Olsen) 10am
Basketball: Women's quarter-finals – Australia v United States, 2.40pm.
Mathew Belcher (right) and Will Ryan are all but guaranteed Australia's second gold of the sailing regatta in the men's 470 class.Credit:Getty
Sailing: 470 Men Medal Race (Matthew Belcher, Will Ryan) at 3.33pm, 470 Women Medal Race (Monique de Vries, Nia Jerwood) at 4.33pm.
Diving: Women's 10m Preliminary (Nikita Haines, Melissa Wu) from 4pm
Cycling – track: Men's Sprint qualifying and 1/32 and 1/16 rounds, plus repechage (Matthew Glaetzer and Matthew Richardson) from 4.30pm, Women's Keirin round one and repechage (Kaarle McCulloch) from 5.30pm, Men's Team Pursuit finals (Leigh Howard, Kelland O'Brien, Luke Plapp, Alexander Porter, Sam Welsford) at 6.59pm.
Climbing: Women's Qualification Speed, Bouldering, Lead (Oceania Mackenzie) 10.10pm.
Good morning
Hello one and all, good morning, and welcome back to our live coverage of the Tokyo Olympics. We're into day 12 and it's another big one for Australia.
There's so much to look forward to today, but before we look too far ahead, let's quickly recap what was a pretty hectic night:
The Boomers destroyed Argentina 97-59 to move into a mouth-watering semi-final against the United States
The Kookaburras beat Germany 3-1 to reach the gold medal match in men's hockey, where they'll face Belgium
American superstar Simone Biles finally competed at these Games, taking out the bronze medal in the balance beam
That's really just the tip of the iceberg – more to look back on and much more to come. Get comfy.
Most Viewed in Sport
Source: Read Full Article