Thursday baseball trivia: Can you guess the right answer?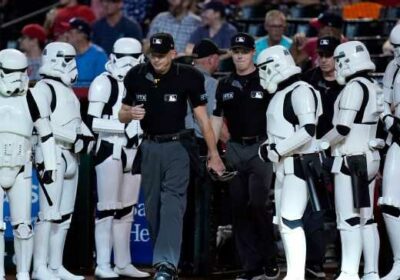 Fantasy football, baseball and college basketball contributor.
Author of book, "Yes, It's Hot in Here."
Each Thursday during the 2023 MLB season, we will have a trio of baseball trivia questions for you to mull over. It's a break from the norm in our fantasy baseball coverage, and we hope you will take part and enjoy every week.
Do… or do not. There is no try. As always, in the spirit of fun, we offer up to you our weekly Thursday Trivia. A new hope, if you will, that you will succeed in getting the answer right. A trilogy of questions is before you. Three answers are required. We're on the honor system here, so please no searching the internet to come up with the answers. You just might be surprised at how much you actually remember! This is the way.
Question 1
Felipe Alou had a streak of 17 in a row to begin the 1966 season. Bryce Harper had a streak of 14 in a row to begin the 2021 season. Kyle Schwarber has an active streak of 13, including seven in a row to start the 2023 season. What exactly are we talking about?
Question 2
Since 1980, he's the only player to have had a single season with double-digit home runs, a double-digit GIDP (grounding into a double-play) and at least five HBP (hit by pitches) in under 215 at-bats. Currently playing for his fifth major league team, so far in 2023 he has more steals than round-trippers. Who is this force at the plate?
Question 3
He is one of only three players in MLB history to have over 45 doubles in one season before reaching the age of 21. He was also the only player in the 1960s to have over 90 triples and 200 stolen bases. His career hit total of 2,757 places him at No. 51 overall (since 1900). What player is this?
Take your time and think about your answers, and when you're ready to see if you're right, click here.
Source: Read Full Article