Thomas Grønnemark: He's the Guinness World Records holder teaching football clubs the art of the long throw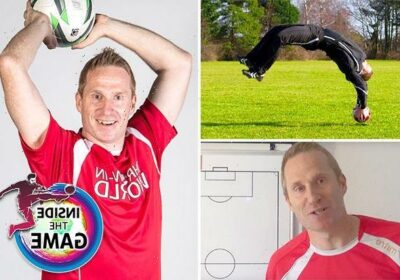 MOVE over Rory Delap.
The former Stoke midfielder was a not-so-secret weapon for The Potters, regularly launching balls into the box with his infamous long throw.
The style of play was ALWAYS condemned by the purists, who called that approach 'football from the dark ages' during a time when most teams tried keeping the ball on the deck.
But one man wants to change that perception, believing there's room for teams who play a tiki-taka style to adopt the long throw-in as one of their many tactics.
Thomas Grønnemark, 46, is a specialist coach who has worked for football clubs in Denmark and the UK to teach players how to improve their throw.
A Guinness World Record holder, who can propel a ball 56 yards, he currently works for Liverpool having joined the club in 2018.
We sat down with Thomas in 2018 to ask him what makes a good long throw and he keenly passed on his tips.
Thomas said: "A good long throw has to be, of course, long but it's important it's fast and it is flat.
"A lot of teams have a player that can throw the ball long, but when it's too high it's too easy to defend or too difficult to flick on.
"You look at the flight of the ball and it has to be long, flat and hard.
MOST READ IN FOOTBALL
DISGRACEFUL ATTACK
Sheff Utd's Sharp viciously attacked by pitch invader during celebration
Blackpool captain deletes homophobic tweets after Jake Daniels comes out
Messi 'to join Beckham's Inter Miami in 2023 and buy 35 percent of franchise'
Liverpool 'back in Kylian Mbappe transfer race as Real Madrid talks stall'