The Steak House With N.F.L. Deals on the Menu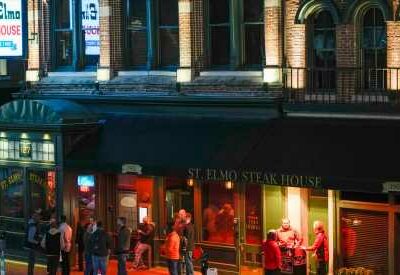 INDIANAPOLIS — A waiter led Thomas Dimitroff past the tightly spaced wooden tables and around a corner to a table on the first floor of St. Elmo Steak House. Dimitroff, a former general manager of the Atlanta Falcons, looked around in bewilderment as he pulled his chair in.
It was Tuesday night, the second day of the N.F.L.'s scouting combine, and the scene looked much different from the way he remembered it in his visits over decades rising through the ranks of pro football.
Roger Goodell, the N.F.L. commissioner, was among the agents and TV broadcasters who moved past the dimly lit room where Dimitroff sat to head downstairs, where the league's V.I.P.s are typically ushered. Many of them stopped and did something of a double take to see if the man in the pink suede jacket and skinny jeans was really Dimitroff.
It was Dimitroff's first trip here for the combine since the Falcons fired him in 2020 after 12 seasons as G.M., and he scrunched his face in confusion: "I've never seen this area before. Have any of y'all seen this area before? I've always been downstairs."
He had been used to walking into St. Elmo with the Falcons owner, Arthur Blank, and then-head coach Dan Quinn. They would be welcomed through the narrow entrance that features over 600 photos of celebrity diners and past the first floor dining room to a more secluded area downstairs, where others at the top of the N.F.L. food chain gathered.
That space has general seating but is also equipped with private areas that can be closed off with doors so that sensitive matters can be discussed without worry of being overheard. There's also a room reserved for Peyton Manning, the former Indianapolis Colts quarterback-turned-broadcaster. It includes a television and private elevator.
Known for its spicy shrimp cocktail — heavy on the horseradish — St. Elmo has been open since 1902 and sits in the heart of the bustling South Illinois Street, walking distance from the JW Marriott, the Conrad and the many other hard-to-reserve hotels at the combine.
Brad Blank has been an agent for football players and broadcasters since 1981 and said he had been going to St. Elmo for nearly as long. He remembers when the restaurant served tomato juice and bean soup before even bringing out warm bread. "Back then, it was either St. Elmo's or Burger King," said Blank, who remembers often going there with Charley Armey, the former St. Louis Rams general manager.
"But everybody goes to St. Elmo's. Getting a reservation, you almost have to, like, know somebody." (TMZ used to camp in front of the restaurant hoping to catch someone coming out drunk on red wine and football.)
The steak house is something of a crossroads of the combine, where ousted football personnel come to reignite careers and relationships, agents float trade possibilities and contract figures, and team executives gather to set the course of their franchises.
St. Elmo "becomes an extension of the N.F.L. combine," said Craig Huse, who co-owns the restaurant with his father, Steve. Huse noted that the Cowboys owner Jerry Jones, Cincinnati Bengals Coach Zac Taylor, the agent Tom Condon and Goodell all frequent the place.
Dimitroff said the steak house wasn't where deals were completed, but rather where the seeds of the league's trades, signings and, of course, draft picks were planted. "It's more breaking the ice a little bit and being comfortable with someone and continuing to talk," Dimitroff said. "So later you can have that business conversation."
One dinner in 2019 stands out for Dimitroff. He, Blank and Quinn discussed two major personnel decisions that precipitated his firing. The three men went into that year's combine intent on improving the team's offensive line and, by the end of that dinner, had zeroed in on drafting two linemen: Chris Lindstrom, whom they picked 14th overall, and Kaleb McGary, the 31st selection.
Lindstrom has evolved into one of the best guards in the league, making his first Pro Bowl this year, and McGary just had the best season of his career, proving to be one of the league's top run-blocking tackles.
The men that night also agreed they would reward receiver Julio Jones with a hefty raise after he led the N.F.L. in receiving yards during the 2018 season and made the Pro Bowl. Five months after the St. Elmo dinner, the team signed Jones to a three-year, $66 million extension, then the most guaranteed money for a wide receiver in N.F.L. history. Jones turned in his sixth-straight 1,000-yard season in 2019 but struggled to stay on the field with injuries.
Dimitroff had helped build the Falcons to a Super Bowl appearance in 2017, but he thought the Jones signing and his failure to return the team to a championship contender played a large role in his firing in 2020. Jones was traded to the Tennessee Titans in 2021 but remained on the Falcons' payroll for the next two seasons, amassing a total cap hit of $23 million, according to Spotrac.
"There were elements of irresponsibility on my part and the organization," he said of the deal.
Dimitroff was back at St. Elmo for the first time in four years after having spent Tuesday meeting with N.F.L. teams in a deluxe suite at the Hyatt Regency trying to convince them to buy his company's software. Dimitroff is now the chief executive of SumerSports, which uses an algorithm to produce computerized player grades.
On Tuesday night, data scientists and engineers were his audience. Instead of talking to coaches and team owners about contracts and draft strategy, Dimitroff and his SumerSports colleagues went over the sales meetings they had that day. And fantasy football.
Dimitroff told the table that this season was his first playing fantasy football, pausing to underscore the point. "And my first pick — oh, my god, this is heresy in Falcons land — I drafted Alvin Kamara," Dimitroff said, referring to the running back for the New Orleans Saints, the Falcons' biggest rival. (Dimitroff said he finished 14th out of 16 teams.) "Sixteen-team fantasy leagues are tough, though, right?" he asked.
As the night went on, Dimitroff's seafood pasta went cold as he exchanged pleasantries and memories with football peers who stopped by the table. The longest embrace of the night came from Quinn, now the Dallas Cowboys' defensive coordinator. They last saw each other in 2020 in Blank's house in Atlanta, where Blank fired them both.
And then Quinn had to leave. He was going downstairs.
Source: Read Full Article