The hectic final chapter to Brittney Griner's time in Russia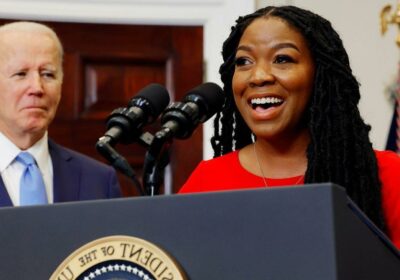 T.J. Quinn joined ESPN in November 2007 as an investigative reporter for ESPN's Enterprise Unit, which is charged with developing long-form, investigative features to be presented across multiple platforms.
The invitation Cherelle Griner received to the White House on Thursday morning was to meet with national security adviser Jake Sullivan. This wasn't her first trip to 1600 Pennsylvania Ave., but it was the first time officials didn't work to lower her expectations before she got there.
When she arrived, she was taken to the Oval Office and greeted not by Sullivan, but by his boss, President Joe Biden. The deal is happening, he told her. A minute later he got a phone call and they heard the news together: Brittney Griner was back in U.S. custody.
The call was patched through to Griner, who was standing on a tarmac in Abu Dhabi, United Arab Emirates, wearing a knit cap over her recently shorn hair. President Biden spoke first.
"It's Joe Biden," he said, according to a White House official. "Welcome — welcome home."
Cherelle Griner was then led to a private dining room where she could speak with her wife — a free woman for the first time in 294 days — without Russian officials listening in. And sometime in the very early hours Friday, she was expected to greet her wife after she landed in San Antonio.
Government officials and sources close to Griner interviewed Thursday described a hectic final chapter to Griner's time in Russia.
For months, U.S. officials said privately, and occasionally publicly, that Russia simply wouldn't engage in negotiations. The United States offered to trade convicted arms merchant Viktor Bout, 12 years into a 25-year sentence, for Griner and former marine Paul Whelan, who has been in Russian custody on espionage charges for four years. But Russia never showed a willingness to trade Whelan, several administration officials said on condition of anonymity.
"We have been raising Paul Whelan's case with the Russians since the earliest days of this administration," one senior administration official said during a background briefing.
A White House official told ESPN on Thursday that the United States at one point offered a straight trade of Bout for Whelan, who has 12 years remaining on his sentence.
"It was a nonstarter," the White House official said. Russian officials said they considered Whelan to be a "different class" of prisoner than Griner or Bout. But officials said their Russian counterparts have not offered any counterproposal involving Whelan.
From July until a few weeks ago, the White House source told ESPN, U.S. officials did not make additional specific offers to Russia, not wanting to paint themselves into a corner. Instead, the source said, officials spoke generally about what sort of prisoners they might be willing to exchange.
U.S. officials had hoped that Russia might be ready to negotiate in earnest after the Nov. 8 midterm elections, knowing that Vladimir Putin's government would not want to give Biden any sort of political victory before that.
Instead, Griner was transferred from the Moscow jail where she had been kept since February to a penal colony, where officials and her family feared for her health and safety.
Maria Blagovolina, one of Griner's two Russian lawyers, said Thursday her client's life in the IK-2 prison wasn't as bad as it might have been. "She had honestly no complaints," Blagovolina said. "Things could have been much worse."
Most of the women at IK-2 work during the day sewing uniforms, but the 6-foot-9 Griner was too tall to sit at the worktables, and her hands were too large to manage the sewing. Instead, she carried fabric all day and said she liked the job, compared to what she might have been doing.
Griner recently had the flu but was on the mend, Blagovolina said.
Griner made one decision while there that came as a surprise to fans who saw video of her Thursday: Her signature hair had disappeared. Blagovolina said Griner cut it two Sundays ago and had told her attorneys she planned to do it to make life a little easier during the Russian winter. It was clear Griner was preparing herself for the long haul.
"It's very cold in there and every time she washed her hair she got cold and would get a chill," she said. "She should have waited until New Year's Day."
Within the past couple of weeks, administration officials said, Russia finally offered a proposal, saying it would be willing to do a one-for-one trade of Griner for Bout. U.S. officials say they were convinced the choice was either Griner or neither of them, and Whelan would have to remain in Russia for the time being.
President Biden decided last week to make the deal. The administration took steps to avoid the mistake it made in April when it traded to bring American Trevor Reed home without telling the Whelans that Paul wasn't part of that deal. This time, an administration official went to visit Paul's sister, Elizabeth, in person.
On Monday, Blagovolina said, she was told that Griner had been moved to a Moscow jail, the most promising of signs.
For the next few days, "complete silence," she said. "It was kind of stressful. We were worried about her — she didn't have her glasses; she broke her glasses and we didn't know if she was getting food."
Thursday morning, the word came: Griner was headed to an airport.
(One curious development Thursday was an announcement by Saudi officials that Saudi Arabia had helped broker the deal. Several administration officials said they were not aware of any role the Saudi government played in negotiations.)
What happens next will be up to Griner. Once she was released from custody, she became the legal guardian of her own fate. After nearly 10 months of being told when to rise, when to sleep, when to eat, when to work, while diplomats she never met haggled over her freedom, the U.S. government was legally bound to honor her wishes.
The plan was for her to land in San Antonio and stay in Brooke Army Medical Center for observation. She might need medical and nutritional treatment, and there will be great attention paid to her mental health. The plan has been to move her to a private, secure location when she's ready. She will receive advice from the government and from advocacy groups about the healthiest way to resume her life. But the decisions will be hers.
Source: Read Full Article