The day Alex Ferguson kicked a boot at David Beckham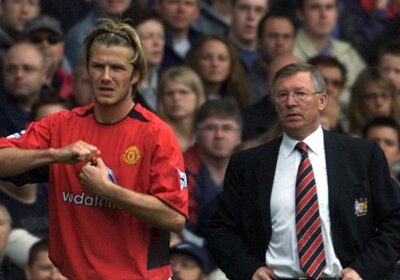 A flying boot, an Alice band and the day David Beckham 'went at' Sir Alex Ferguson 'like in a mad scene out of a gangster movie' as Netflix series revisits the infamous incident that ended his Manchester United career
It is just over 20 years since Sir Alex Ferguson kicked a boot at David Beckham 
Dressing room incident and its aftermath ended Beckham's time at Man United 
That moment is about to be revisited in the upcoming Netflix series BECKHAM 
As David Beckham's last-chance free-kick cleared the crossbar and went into the Stretford End, the television coverage cut to Sir Alex Ferguson on the Manchester United bench.
'Ah, f*** it,' the Scot was seen shouting, bringing his arm down in anger and frustration.
Never mind that Beckham had come off the bench with the bit between his teeth and scored twice to keep United clinging to the coat-tails of Ronaldo-inspired Real Madrid in a game that had sped away from them.
Ferguson's side were out of the Champions League and Beckham's United career was well and truly over.
It's just over 20 years since the infamous 'boot kicking' incident that drove a wedge between United's fearsome boss and the man known as 'Goldenballs' whose global fame transcended the game of football.
The infamous Alex Ferguson boot-kicking incident that led to David Beckham's departure from Manchester United in 2003 is about to be revisited in a Netflix series
Beckham makes no effort to hide the graze above his left eye when reporting for Manchester United training two days after the incident in February 2003
https://youtube.com/watch?v=u_s9zUaw_BM%3Frel%3D0
Your browser does not support iframes.
It's an episode about to be revisited in detail in the new Netflix series BECKHAM.
Unsurprisingly, event the two-minute trailer features Beckham speaking about the freak incident that sealed his Old Trafford exit.
He acts out the moment the stray boot on the dressing room floor, booted by Ferguson in a fit of rage, flew and struck him above his left eye.
Beckham rises from his seat to re-enact how he stood up and 'went after' Ferguson.
Beckham probably realises he'll be asked about this for as long as he draws breath. Indeed, there have already been plenty of accounts of it from both sides already in the two decades since.
It occurred after an FA Cup fifth round tie against Arsenal on February 15, 2003, a couple of months before that Real Madrid game.
United played poorly and lost 2-0 to their main rivals, with hopes of a domestic Double or another Treble going up in smoke.
Ryan Giggs had uncharacteristically missed an open goal before Edu's free-kick had taken a decisive deflection off Beckham's shoulder and wrong-footed keeper Fabien Barthez.
During the Netflix trailer, Beckham acts out the moment he realised he'd been struck by a boot
Beckham recalls how he rose from his seat to confront Ferguson after being hit by the boot
Beckham admits that he 'went at' Ferguson during the heated dressing room argument
Arsenal's passage into the quarter-finals was sealed when Edu teed up Sylvain Wiltord to double their lead seven minutes after half-time.
The rivalry between these two sides was at its peak and Arsenal's win dealt United a hefty psychological blow. It came nine months after Wiltord's goal won the Premier League title for the Gunners at Old Trafford.
Beckham had endured a mixed season. An injury saw him lose his place and there was friction between himself and Ferguson because the manager suspected Beckham's entourage of flirting with Real Madrid.
The Spanish giants were at the height of their 'Galactico' era, where they'd sign the world's biggest stars regardless of the cost. Beckham was firmly within their sights.
In his autobiography My Side, released later in 2003, Beckham accused Ferguson of singling him out for harsh criticism after the Arsenal loss.
'David, what about the second goal? What were you doing? We told you about it before the game. The problem with you is you don't let anyone talk to you. You don't listen,' Ferguson supposedly said.
Beckham tried to plead his innocence, saying he'd never ignored one of Ferguson's instructions in over eight years of first team football at United.
https://youtube.com/watch?v=An3e8IB4NK8%3Frel%3D0

Beckham is tackled by Arsenal's Ashley Cole during the FA Cup defeat that sparked the row
Beckham cuts a dejected figure after United were knocked out the FA Cup by their bitter rivals
But the manager wasn't having it. 'David, when you're wrong, you've got to own up,' he retorted.
'I felt like I was being bullied in public. I was being backed into a corner for no other reason than spite. I was trapped,' Beckham wrote.
At that point, England captain Beckham swore at his manager. 'The boss took a step or two towards me. There was a boot on the floor. He swung his leg and kicked it. At me? At the wall? It could have been anywhere, he was that angry now.'
The flight of the booted boot from Ferguson's toe to Beckham's forehead is left to the imagination but Beckham felt a string and blood trickle.
'I went for the gaffer. I don't know if I've ever lost control like that before. Suddenly it was like some mad scene out of a gangster movie,' Beckham said.
He recalled how Giggs, Gary Neville and Ruud van Nistelrooy reacted swiftly amid what must have been a stunned silence to hold him back as he tried to get at Ferguson.
Becks recounted how Ferguson had apologised as he received stitches in the medical room and that his furious wife Victoria wanted to confront the manager herself.
Ferguson and Beckham pictured as the former England star signed for Manchester United
Sporting an Alice band and plasters on his forehead, Beckham reports for training 
Beckham's ostentatious plaster certainly drew attention to the damage done by the flying boot
Mac in the Daily Mail pokes fun at the incident a few days later
Yet in another account, Beckham sought to play down what actually happened, saying it was 'blown up out of all proportion.'
He said: 'I'd made a couple of mistakes during the game and he came into the dressing room and a few harsh words were exchanged.
'He started to walk over to me and he kicked out at a pile of clothes on the floor. Out came this boot and then I quickly realised how accurate his kick had been as it struck me on the head, but there weren't any hard feelings.
'It was a complete freak accident. As far as we were concerned it was forgotten straight away within the club, but the incident made the papers which meant people started to speculate about our relationship.
'But as far as the boss and I were concerned it was over, done and dusted.'
The fact Beckham was benched for a crucial second leg against Real Madrid, when United trailed 3-1 from the first game amid fierce speculation he was about to move to Spain, suggests it very much wasn't 'done and dusted.' And that's before his reaction to the missed free-kick.
What's more Beckham, never one to miss a PR opportunity, sported one of the most ostentatious plasters of all-time above his eye when driving into training two days later.
Beckham was dropped to the bench for United's crunch Champions League quarter-final, second leg against Real Madrid a few weeks after the incident
Beckham (right) watches on as Ferguson (left) and United's other subs watch the action closely
Beckham came off the bench to score twice, including a trademark free-kick, but he couldn't prevent United crashing out of Europe
As he doubtless intended, it made every front page the following morning.
Ferguson gave his version of events in his autobiography following retirement in 2013.
He did speak about it at a press conference ahead of United's Champions League game with Juventus a few days later.
Astonishingly ignoring the fact a reporter's mobile phone was going off as he spoke, Ferguson said: 'It was an incident that was freakish. If I tried it a hundred times, or a million times, it could not happen again. If I did it, I'd carry on playing.
'Having said that, contrary to a lot of the reports, David did not have two stitches put in his head. He had no stitches. It was a graze and he's dealt with it with the doctor. There's no problem and we move on.
'That's all there is to be said about it.'
https://youtube.com/watch?v=9dCixiClxBI%3Frel%3D0
But in his book, Ferguson gave more context: 'In his final season with us, we were aware that David's work rate was dropping and we had heard rumours of a flirtation between Real Madrid and David's camp.
'The main issue was that his application level had dropped from its traditionally stratospheric level.
'He was around 12 feet from me. Between us on the floor lay a row of boots. David swore. I moved towards him, and as I approached I kicked a boot. It hit him right above the eye.
'Of course, he rose to have a go at me and the players stopped him. 'Sit down,' I said. 'You've let your team down. You can argue as much as you like.'
Beckham would move to Real Madrid later that year, becoming their latest 'Galactico' signing 
The relationship between Ferguson and Beckham would be repaired in later years 
'The next day the story was in the press. In public an Alice band highlighted the damage inflicted by the boot.
'It was in those days that I told the board David had to go.
'My message would have been familiar to board members who knew me. The minute a Manchester United player thought he was bigger than the manager, he had to go.'
That's just what happened. Beckham sealed his £25million move to Real Madrid that summer having won one final Premier League title with United.
Maybe not booted out, but not far off.
IT'S ALL KICKING OFF! 
It's All Kicking Off is an exciting new podcast from Mail Sport that promises a different take on Premier League football.
It is available on MailOnline, Mail+, YouTube, Apple Music and Spotify.
Your browser does not support iframes.

Source: Read Full Article