Southgate considering his future after England's World Cup heartbreak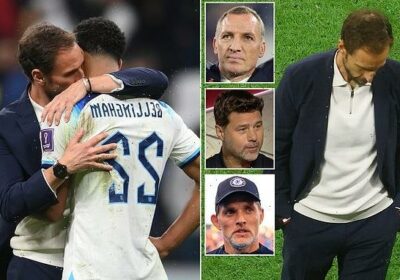 Please stay, Gareth: FA will do everything in their power to persuade Southgate to stay on as England manager after painful World Cup exit, with Mauricio Pochettino and Thomas Tuchel interested in the job if he decides to leave
Gareth Southgate's future as England manager is in doubt after World Cup exit
The Three Lions were dumped out of the tournament in Qatar in defeat by France
Uncertainty over Southgate's future has led the FA to consider other managers
Brendan Rodgers and Mauricio Pochettino are frontrunners should he leave
The anxious Football Association will do everything in their power to persuade Gareth Southgate to stay on as England manager after he admitted he is considering his future.
The 52-year-old, who has been in charge for six years, revealed he would take time to look at his options after England crashed out to France in the quarter-finals on Saturday night.
'When I've been through the past few tournaments, my emotions have been difficult to really think through properly in the following few weeks,' he said.
The FA will attempt to convince Gareth Southgate to stay in his post as England boss despite World Cup heartbreak
'It takes so much energy from you and you have so much going through your mind. I want to make the right decision, either way, because it has to be the right one to go again, or the right one not to go again. I don't think this is the time to make a decision like that. Neither are the next few days, really.
'I don't want to be four or five months down the line thinking, "I've made the wrong call". It's too important a decision to get that wrong.'
Southgate's comments have amplified concerns at the FA that he is ready to quit. Sportsmail revealed on Saturday that supporter reaction to the 4-0 home defeat by Hungary at Molineux in the summer had shocked the manager. 
He was roundly booed after the final whistle, and confessed that the aftermath of that loss had taken him aback. 'I've found large parts of the last 18 months difficult,' he said. 
The 52-year-old manager admitted the hostile reception he received following England's defeat to Hungary this summer came as a shock
'What's been said and what's been written, the night at Wolves, there are lots of things in my head that are really conflicted at the moment, so what I want to make sure, if it's the right thing to say, is that I've definitely got the energy to do that.
'After every tournament I've sat with everybody at the FA and talked things through logically and that's the right process to go through again.'
FA technical director John McDermott will play a key role in those discussions, which will be pivotal to Southgate's future. McDermott and Southgate have a close relationship and McDermott is eager to secure the manager's future until at least Euro 2024.
But there is a feeling at the FA that Southgate is seriously pondering calling it quits.
Mauricio Pochettino (left) and Brendan Rodgers (right) have emerged as possible successors should Southgate choose to walk away
There is no clear succession plan if he does walk. Leicester manager Brendan Rodgers has admirers at the FA — and he appears the most obtainable homegrown coach to replace Southgate, though the fact he is a Northern Irishman would be an obstacle for those who want an English boss. 
Mauricio Pochettino and Thomas Tuchel would also be interested in the job but it is unclear whether the FA would even consider another overseas coach.
In an ideal scenario, Englishmen Graham Potter and Eddie Howe would be leading contenders, but the likelihood of them leaving Chelsea and Newcastle respectively appears slim.
Share this article
Source: Read Full Article