Si Jiahui's new normal life after World Snooker Championship heroics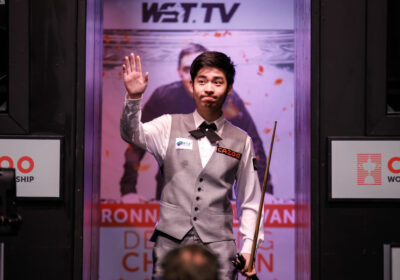 Si Jiahui stunned the snooker world with his run to the semi-finals of the World Championship this year, and while he wants life to return to normal after his Crucible heroics, things will never quite be the same again.
The Chinese sensation pulled off some shock results just to get through World Championship qualifying, beating the likes of Tom Ford and Jordan Brown to secure a Crucible debut in April.
But then he really began to shine, downing Shaun Murphy, Robert Milkins and Anthony McGill before narrowly losing out to Luca Brecel in the semi-finals.
Having come into the tournament as the world number 80, few knew about the youngster before that string of victories but plenty are aware of him now.
The 21-year-old who is based in Sheffield has been back to China since the World Championship and has certainly noticed the difference, although the reaction has not been quite what you might expect.
'A lot of people recognised me, but most just said "what a pity." They didn't really congratulate me, they just said it was a shame,' Si told Metro.co.uk through a translator. 'They want to watch me play well and win, I understand it.
'More people know me now, but I don't feel any different, I'm still the same. In Sheffield during the World Championship a lot of people recognised me, but now no. I like that though, I prefer it to be normal.'
Si might not be getting showered with praise from the public, but he got great support from home during his World Championship run, with friends and family cheering him on from the snooker club his father runs in Zhuji.
'Everyone's so happy for me and they all supported me,' he said. 'My father's club has a lot of regular customers. Everyone watched in the club during the World Championships.
'When I started playing snooker at a very young age, 9 or 10, my father travelled with me everywhere. He was so excited, I don't think he slept during the World Championship.'
While Si might want life to be back to normal as possible, things are notably different, like traveling to Macau to promote the invitational Macau Masters with the likes of Ronnie O'Sullivan and Judd Trump.
O'Sullivan even tipped Si as a future world champion but the 21-year-old is just going to keep his feet on the ground.
'I never expected to be doing PR with Ronnie and Judd,' he said. 'I know Ronnie said that, but I still have a lot to learn and to improve.
'When I got to the World Championship semi-final I was relaxed and I need to keep that mindset. I'll try my best to do that.'
Asked if the stars of the sport offered him any advice he said: 'It was hard because I can't speak a lot of English, but they just said to stay relaxed.'
Looking back on that remarkable Crucible run, it was the opening victory which stands out for Si, as a 10-9 win over Murphy, who had just won the Players and Tour Championships, on his first appearance at the venue was a stunning triumph.
Asked for his favourite memory of the tournament, he said: 'The first match against Shaun Murphy. The first match at the Crucible against anyone I would have been most happy and to beat someone even happier.
'I didn't feel much pressure in the deciding frame. A little bit from the crowd, but in the match there was no real pressure because I'm down the rankings, Shaun is the seed and under more pressure than me.'
His incredible run came to an end in amazing fashion as he squandered a 14-5 lead over Brecel to lose 17-15 and he admits that thoughts of a Crucible final got to him.
'Luca played well and my form wasn't as good as it had been before, I couldn't keep it up,' he said. 'I was so far ahead I started thinking about the final, I think in a close match I might have played better. I had never played there before, I had no experience so such a big lead wasn't a good thing.
'I wasn't disappointed at all after, I was just happy to get to the semi-finals of the World Championship.'
Any possibility of disappointment would have been eased by the £100,000 Si picked up in prize money, although he is yet to spend any of it!
'I've not spent one penny,' he said. 'I changed my phone and I can't get on my bank app! But that's a good thing. I want to buy a house, but I'll leave it for now. A lot of people have treated me to dinner.'
As for what is next, he has only just turned 21 so has an incredibly bright future ahead of him, although he is doing his best not to think about that.
He already feels the benefits of his unforgettable Crucible exploits, but knows the key to repeat that success is to not put pressure on himself.
'I feel like I'm a better player. I feel more confident, I'm a better player than before,' he said. 'Other players they might be more cautious playing against me now because they saw what I achieved.
'I never expect anything, I just play. I want to repeat the same success I had at the Crucible, but I think I did well there because I was so relaxed, so there is no point worrying about it. I know how to win matches now.'
For more stories like this, check our sport page.
Follow Metro Sport for the latest news onFacebook, Twitter and Instagram.
Source: Read Full Article