Serena Williams vs Danka Kovinic – US Open LIVE RESULTS: Stream FREE, TV channel and latest as Serena wins first set | The Sun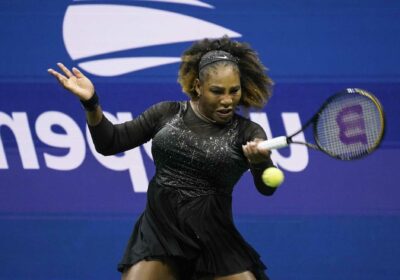 SERENA WILLIAMS begins her final Grand Slam campaign at the US Open TONIGHT.
The tennis legend, 40, takes on Montenegrin world no 83 Danka Kovinic at the Arthur Ashe Stadium.
Williams – who has won the US Open six times as part of her 23 major triumphs – is expected to retire from tennis following her campaign at Flushing Meadows.
Follow ALL of the latest US Open updates below…
Start time: 7pm ET/12am BST
TV/ live stream: ESPN (US)/ Amazon (UK)
Stream FREE: Amazon 30-day trial (UK)
Sunni Upal

Williams 6-3 *0-1 Kovinic

Some big moments early in the second set.

Kovinic is forced to deuce and comes through some dicey moments to hold serve.

A set and an early break really would've put Serena in command.

Sunni Upal

Williams 6-3 Kovinic

Game and first set!

A huge noise erupts at Arthur Ashe Stadium – Serena Williams is one set up.

It was a 10-minute game to finish it in which she had to save three break points.

But the serve came up trumps when she needed it there.

.

Credit: AP

Sunni Upal

Williams *5-3 Kovinic

A break to love! 10 straight points for Serena and she is serving for the first set.

That's three games in a row for Serena and a lot of it has just been a gift from Kovinic.

.

Credit: AFP
Sunni Upal

Williams 4-3* Kovinic

That's just the service game Serena needed.

A quick hold with first serves hitting their spots.

That allows her to dominate points and keep them short as well.

.

Credit: Reuters

Sunni Upal

Williams *3-3 Kovinic

And back and forth we go in this topsy turvy first set.

Kovinic thought she held there when a ball from Serena seemed to be looping out but it just caught a piece of the line.

And a double fault hands Serena the game to stop the rot.

Sunni Upal

Williams 2-3* Kovinic

A break of serve for Kovinic and a hushed silence around Ashe.

Serena looked to get out of a bit of trouble with some big serves there, but her opponent kept coming back and got the job done.

Worrying signs for Williams. That's three games in a row for the Montenegrin.

.

Credit: Getty Images – Getty

Sunni Upal

Williams *2-2 Kovinic

And we're level again on Ashe.

A solid hold from the Montenegrin and she's handled this early adversity very well.

Not many in here are cheering her on tonight.

Former boxer Mike Tyson watches the action

Credit: Reuters

Sunni Upal

Williams 2-1* Kovinic

It's a break back, and we're back on serve.

Williams is missing a lot of first serves and that's leading to pressure on her service games.

Her forehand fails her on 30-40 as it drops into the net and Kovinic has an immediate break back.

Sunni Upal

Williams *2-0 Kovinic

Serena breaks after a brilliant rally – finishing it off with a drive forehand volley at the net.

Kovinic didn't get enough height on that lob and she loses her opening serve.

Good footwork from Serena and focus looking strong. She already looks a lot better than against Raducanu a fortnight ago in Cincinnati.

.

Credit: Reuters
Sunni Upal

Williams 1-0* Kovinic

That's quite a crowd roar after just winning the first game.

Serena got out of a hole early on as two double faults led to two break points against her.

But she holds and the crowd love it.

Sunni Upal

Ready to go

Warmups are done.

Serena Williams will serve first and we're ready for PLAY!

.

Credit: Reuters

Sunni Upal

Here she is

Serena Williams emerges onto Arthur Ashe Stadium to an amazing reception after an intro video narrated by Queen Latifah.

What a moment.

Sunni Upal

Rousing

A wonderful rendition of the Star Spangled Banner at Arthur Ashe Stadium and we're ready to go now.

The crowd is full and the players will be on their way in a matter of moments.

Goosebumps.

Serena Williams walks off the practice court

Credit: AP

Sunni Upal

One moment in time

A bit of a Whitney Houston tribute as well with the singing of 'One Moment in Time'.

The crowd is filling up nicely.

Sunni Upal

Underway

The opening ceremony is underway on Arthur Ashe Stadium.

And we have a tribute to Ukraine to kick us off.
Sunni Upal

A bit of news

Mike Tyson has been seen arriving… without his walking stick.

Great to see.

Credit: AMAZON PRIME VIDEO

Sunni Upal

Stage set

The crowd are streaming into the biggest tennis court in the world.

Serena and Danka Kovinic are moments away from heading onto the court now.

.

Credit: AP

Sunni Upal

Final hit

Here's Serena walking to the practice court a little earlier for a last tune up…

.

Credit: AP

Sunni Upal

Serena time

Right, under 20 minutes now until the evening session begins.

Tickets courtside are apparently swapping hands for $4,000 for this.

And celebrities in attendance will include Hugh Jackman, Mike Tyson and possibly Barack Obama.

Sunni Upal

Ssime-less

I fancy Felix Auger-Aliassime to make some noises this fortnight in Flushing.

The No 6 seed has just got through in four sets to the second round.

The young Canadian will have plenty of fans backing him in New York.

.

Credit: Reuters

Sunni Upal

Dressed to impress

Serena Williams will be wearing a figure skating-inspired dress she helped design tonight.

It will have 6 layers, to mark the fact she's a 6-time US Open champion.

And her shoes will have a diamond encrusted Nike Swoosh.

Talk about making an effort.

.

Credit: AP
Sunni Upal

On deck

Just a word about what's coming up tomorrow.

There's a Spanish feel on Ashe with Carlos Alcaraz kicking this off and Rafael Nadal in action during the night session.

We also have Venus Williams and Naomi Osaka in action on the main court.

Defending champion Emma Raducanu will be the headline act on Louis Armstrong Stadium in the night session.

.

Credit: The Mega Agency

Sunni Upal

Alive at night

It's a pretty busy night session, as it always seems to be in New York.

Nick Kyrgios will follow Serena onto Ashe tonight when he faces fellow Aussie Thanasi Kokkinakis.

Fritz vs Holt will be the night game on Grandstand starting shortly.

And Louis Armstrong Stadium has No 4 seed Stefanos Tsitsipas in action as well as No 14 seed Canadian Leylah Fernandez.

Sunni Upal

Serena's resume

It's pretty impressive. She's won 23 slam titles and only one behind Margaret Court's all-time record.

Surely she couldn't make a magical run all the way to the championship here… could she?

7 x Australian Open 🏆🏆🏆🏆🏆🏆🏆

3 x French Open 🏆🏆🏆

7 x Wimbledon 🏆🏆🏆🏆🏆🏆🏆

6 x US Open 🏆🏆🏆🏆🏆🏆

Sunni Upal

American dream

There's plenty of American interest here on home soil, and a couple in show court action.

Madison Keys is a set and a break up on Louis Armstrong Stadium right now.

And Taylor Fritz will be on Grandstand court shortly for an all American clash with Brandon Holt.

.

Credit: Getty
Source: Read Full Article