Roger Federer Pulls Out of French Open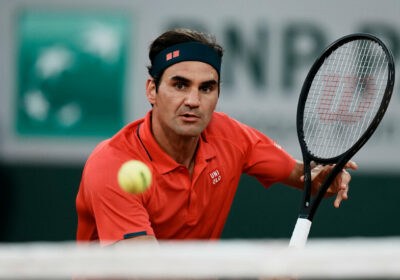 PARIS — After winning a grueling third-round match that finished well after midnight, Roger Federer put an end to his French Open, withdrawing from the tournament on Sunday.
Federer, 39, was scheduled to face ninth-seeded Matteo Berrettini of Italy in the fourth round on Monday, but decided he did not want to risk pushing himself beyond his comfort zone.
Federer, seeded eighth, was playing in only his third tournament in the last 16 months after two operations on his right knee in 2020. Though he won the French Open in 2009 and has had strong clay-court results in his career, he ruled out his chances of winning before this year's tournament even began, recognizing that he had played too little to be able to succeed on clay in a long series of best-of-five-set matches.
Federer, the oldest player in this year's men's singles tournament, was also in a brutal half of the draw. It includes his two main rivals: No. 1 seeded Novak Djokovic and No. 3 seeded Rafael Nadal, a 13-time French Open champion.
"After two knee surgeries and over a year of rehabilitation, it's important that I listen to my body and make sure I don't push myself too quickly on my road to recovery," Federer said in a statement. "I'm thrilled I have gotten three matches under my belt. There is no greater feeling than being back on the court."
His priority, as he has made clear since his return to the tour in March, is to make another run at the title at Wimbledon, where he has won eight singles titles, an Open era men's record. He came within one point of winning a ninth in 2019 when he lost to Djokovic in the final after holding two match points on his serve in the fifth set.
Federer could have faced Djokovic in the quarterfinals in Paris this week if he had managed to defeat Berrettini in the fourth round. But he chose to withdraw about 15 hours after finishing his 7-6 (5), 6-7 (3), 7-6 (4), 7-5 victory in the third round over Dominik Koepfer, an unseeded German left-hander.
The match, played without paying spectators in a nearly empty stadium, ended Sunday at 12:43 a.m., local time. This is the first year of official night sessions at Roland Garros: a move made to raise revenue after huge investments in the tournament's infrastructure, including a new roof over the main Philippe Chatrier Court.
This was Federer's first night-session match at the French Open, a tournament he first played in 1999. It could turn out to have been his final match at the tournament. With his 40th birthday looming in August, it is unclear how much longer he will be able to play on tour.
If it was his parting match at Roland Garros, it would be a poignant finish for the Swiss star, who has long been a fan favorite in Paris because of his elegant attacking game and his fluent French.
The move to withdraw also drew some criticism.
"That's not how it works," said Paul McNamee, the former Australian Open tournament director, in a post on Twitter after Federer indicated that he might withdraw. "You're not at a candy store, able to pick and choose which matches you play, as your actions affect others, and the tournament."
But Federer has been an exceptionally durable champion. He has never retired during a tour-level match and had never withdrawn during a Grand Slam singles tournament, although he has withdrawn from four regular tour events, most recently the 2019 Italian Open, also held on clay.
It is unclear whether Sunday's decision was linked to concerns about his right knee or more related to his need to conserve resources ahead of Wimbledon, which is set to begin June 28.
Though he said after defeating Koepfer that he might withdraw before facing Berrettini, he also sounded reassured.
"I got lots of information for all of us, the whole team, to look at," he said, referring to his coaches, Ivan Ljubicic and Severin Luthi, and fitness trainer, Pierre Paganini. "It's a good time to thank them. We've all worked together a lot, and for me to be back on a court playing three and a half hours is not normal. Those who have had the operations I've had know what I'm talking about."
Source: Read Full Article