Richarlison 'faces RSPCA investigation over complaints about his dogs'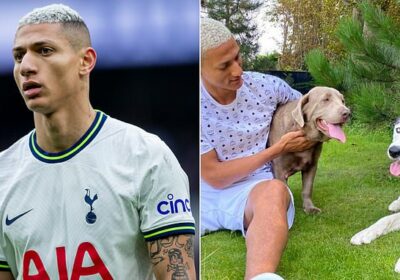 Tottenham and Brazil star Richarlison 'faces an RSPCA investigation as neighbours claim the Brazilian's dogs constantly bark and escape on a daily basis'
Neighbours have reported the Tottenham forward to the animal welfare charity
Richarlison's neighbours have complained about the noise made by his dogs
The Brazilian international has endured a difficult first season at Tottenham 
Tottenham forward Richarlison is reportedly facing an RSPCA investigation after neighbours made complaints over the noise made by the star's two dogs.
The Brazilian international owns a Siberian husky called Acerola and a chocolate labrador.
Neighbours of Richarlison, who lives in north London, confirmed they had reported him to the RSPCA.
A 75-year-old neighbour told the Sun they had contacted the animal welfare charity due to his dog's 'constant' barking.
The neighbour also complained that the Spurs star had recently held a party into the early hours of the morning. 
Neigbours confirmed they had reported Richarlison to the RSPCA over noise made by his dogs
The Brazilian international previously appealed to fans in 2019 to help him locate his husky
'We reported him to the RSPCA as his dogs have been howling,' the neighbour told the Sun.
'It's not nice to hear, they constantly bark, there's no let-up.
'He recently had a massive party with a live band that made our houses vibrate and it went on until 4am.'
Another neighbour reportedly claimed Richarlison's dogs 'escape on a daily basis'. 
Richarlison had appealed to fans on social media in 2019 to help him locate his Siberian husky.
His appeal came after the dog had 'fled' the Crosby area, where he previously lived.
Two fans of Everton, his former club, found Acerola by Crosby beach.
The RSPCA have reportedly declined to comment on the complaint.
Richarlison has had a difficult first season at Tottenham since his £60m move from Everton
'We are liaising with the player and his representatives,' a Tottenham spokesperson said.
The 25-year-old has had an underwhelming first season for Tottenham since joining from Everton in a £60million move last summer.
Richarlison has failed to score in his 19 Premier League appearances for Spurs, with his only two goals for the club coming in a Champions League group stage match against Marseille back in September.
The forward has seen his debut season at the club disrupted by a series of injuries.
But he returned to the bench against Brighton on Saturday. after overcoming his latest setback.
Source: Read Full Article