Reynolds and McElhenney dream of the Premier League for Wrexham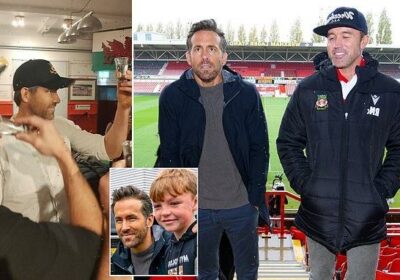 'The dream is the Premier League': Hollywood stars Ryan Reynolds and Rob McElhenney target the top – and bringing Will Ferrell to a game – with non-league Wrexham, after downing shots with locals!
Co-owners Ryan Reynolds and Rob McElhenney had their first press conference
It was their first media appearance since taking over Wrexham in February 
The pair spoke about their future plans for the club which includes the top-flight
They will attend their first game at the Racecourse Stadium on Saturday 
Hollywood stars Ryan Reynolds and Rob McElhenney vowed they are in it for the long-haul at Wrexham as they target a fairytale rise to the Premier League with the non-league club.
The two actors braved the wet weather in North Wales to address the press for the first time at the Racecourse Ground since sealing their takeover back in February.
With Wrexham currently sat 11th in the Vanarama National League, the owners shared smiles as it was pointed out just how long it could take to join Manchester United and Liverpool in the top flight – but they would not back down.
Reynolds, who said 'f**k' live on TV without realising earlier in the media event, said: 'We'd be lying if the dream wasn't Premier League. It won't be overnight, that's impossible!
'Look, our goal is to get back in the (Football) League and continue our way upwards.'
'The perfect ending for this season is promotion,' McElhenney added. 
Rob McElhenney and Ryan Reynolds held their first press conference at Wrexham since taking over the club
Both of the Hollywood stars spoke of their big plans for the club which includes the Premier League
'We have a goal for the end of this club as well as this season and hopefully it's a story to be told for years to come.'
The It's Always Sunny in Philadelphia star added: 'As a sporting fan I would want the owner to say we're going to win the championship and do it as quickly as we can. 
'Whether that's this year, or next year or the year after. You want that level of optimism.' 
The duo invested £2million into the club when their takeover from the Wrexham Supporters' Trust was sealed – with some of that being given to furnish a much-changed playing squad.
In came Cheltenham Town captain Ben Tozer for £200,000 and Carlisle defender Aaron Hayden for £150,000.
But McElhenney was able to laugh off any suggestions that, like some Premier League owners, oil is behind their wealth. 
The pair were greeted by fans outside the ground with some waiting from 10am in the morning
They attended their first game on Tuesday when Wrexham lost 3-2 away against Maidenhead
He said: 'Why not dream big? I read that 'Oil Money' was coming into Wrexham. I can confirm I have NO stocks in oil.'
One question away from events on the pitch was who fans could expect to see off it.
'Will Ferrell,' Reynolds replied. 'That's who I'd like (to come over). He's a good friend of mine.'
McElhenney was more tight-lipped on who is on his invite list but fellow Hollywood star Jason Bateman is among those to have been sent Wrexham clothing in recent months. 
Much was made of the two owners FaceTiming family members while they took their first steps across the pitch at the Racecourse ground on Wednesday. McElhenney described it as 'emotional' on his social media.
With slick answers to the media impressive, and everything being filmed for the FX documentary that will air on Disney+ early next year, it was the undercurrent of what it meant to their families that really resonated.
'I remember sitting on the couch in the middle of the pandemic and watching a football game and I turned to my wife and said 'I think I want to buy a football team',' McElhenney explained.
'From that point forward I talked about it with her and of course the sport had something to do with it but it is more about the community and I recognise the people.
'I remember looking at the screen and said 'I know those people'. I think we can do something special here.' 
Reynolds and McElhenney enjoyed a shot at the Turf Hotel the night before the conference
He added: 'I have a ritual with my eldest son on matchday where we walk the dog, put on the shirts and watch the games together.' 
Reynolds said: 'I've been surprised by how emotional invested my friends and family are if there I a match on.
'They are always watching and following on social media. I don't profess to be a football expert but I see the beauty of the fan and I see it through others.'
The press conference marked their second day in the town of Wrexham and they are addressing 100 supporters at a fans' forum this evening.
On Wednesday night they sat with a select group of around 20 people inside the Turf Hotel where they got a taste of Wrexham Lager as well as turned to stiffer shots of Aviation Gin, a company Reynolds has had a major stake in.
A lot was made of the owners needing to watch from afar, tracking on filmsets and at their children's various sporting games, with their access to fans at the Racecourse previously limited to humourous ad-board messages.
But McElhenney and Reynolds soon realised the jokes had worn thin when they lost back-to-back games and their involvement was beginning to appear as a 'joke'.
'Football needs to be entertainment and a fun experience for the whole family so if we can do things we'll take it,' McElhenney said. 
The pair will visit their first home game at the Racecourse Ground on Saturday against Torquay
'We had the fun LED boards for a while but we lost two games and so we took those down because it's not fun for us to lose and we want people to recognise we are serious.'  
The owners will get their first experience of a packed out Racecourse this Saturday with the visit from Torquay but it was a gloomy away day at Maidenhead which gave them their first experience of football in England's fifth division.
'I don't think I've ever seen anything as exciting as that in the world of sports. I don't think my nerves have ever been so fried,' Reynolds said.
For McElhenney, who described the Racecourse as a 'cathedral', he cannot wait for the weekend.
'For me it could be bigger than the Super Bowl. I saw my Philadelphia Eagles win it for the first time and that was one of the greatest days of my life. This could rival it.'
Sporstmail's Kieran Lynch provided live updates as Wrexham's celebrity co-owners made their first official appearance in front of the media at the Racecourse Ground. 
Host commentator
That brings an end to the press conference.
Fascinating stuff from the club's new co-owners who spoke very well and clearly have huge plans for the club going forward with Ryan Reynolds even dreaming of the Premier League!
Their first goal is to get the club up into the Football League and currently they sit in 11th place in the Vanarama National League.
The pair will be in attendance for their first home game at the Racecourse Ground on Saturday against Torquay United and they plan to attend more games this season.
Impressive by Rob McElhenney who was successfully able to say the name of Wales' longest named place Llanfairpwllgwyngyllgogerychwyrndrobwllllantysiliogogogoch.
Good effort
Nathan Salt has reported: 'They've nailed this, the press are eating out of their hands. Every answer is so slick.'
Ryan Reynolds admits he doesn't know what the offside rule is but he's starting to get the hang of it.
Ryan Reynolds has been commenting on the Maidenhead defeat and he said: 'I'm new to so much of this it's exciting. I don't think I've ever seen anything that exciting in the world of sports. Watching the comeback in the second half was second to none. My nerves were fried.'
When asked what celebrity he would like to see at the Racecourse, Ryan Reynolds responded with Will Ferrell who he's just been working with on a project.
Rob McElhenney said: 'As a sporting fan I would want the owner to say we're going to win the championship and do it as quickly as we can. Whether that's this year, or next year or the year after. You want that level of optimism.'
Ryan Reynolds said: 'That's the goal. Not this year that would be impossible.'
Ryan Reynolds has said: 'This house is going to be rocking on Saturday I'm excited to see that. To be here and feel that thunder is going to be special.'
Rob McElhenney hopes to brings his family to Wrexham while Ryan Reynolds has said he aims to visit the club several times this season.
Nathan Salt has reported: 'Elbows out big time here just to get a look at them.
'They are speaking passionately and you really feel they are getting what this club means to the community. But it comes down to results if they are going to get anywhere near their dream of the Premier League.'
Rob McElhenney said: 'We wanted to make Wrexham a global force. There were a few laughs at that, but others who have taken hold of that. It transcends county and continent. We love the idea of telling the story about a working class town and working class club as we feel everyone across the world can know about that.'
Ryan Reynolds said the perfect ending to the season would be promotion.
Rob McElhenney said there is a goal for the end of the season but there is also a goal for the club that will be 'told for generations'.
Ryan Reynolds said: 'I've been surprised how my friends and family have got so emotionally involved with Wrexham. There's something so contagious about it. I'm no football expert, but I see the beauty of the fandom. My family love the project.'
The Deadpool actor said: 'We want to set up a structure here… unless there is a meteor and then we are f*****!'
Ryan Reynolds enjoyed having time to speak to the players as he said: 'I wore ice skates which was stupid move of the bat but it was fun. It was good having the time to speak to the players. Nice to have those little moments between pomp and circumstances away from the camera to get to know each other.'
Rob McElhenney took a penalty against the Wrexham keeper and when asked about it he responded: 'It was a boyhood dream. I was a terrible athlete but a big sports fan but to come on the pitch of a big stadium like this was a dream come true.'
Rob McElhenney said: '(It was) Intense, first time seen them play live and unfortunately the outcome didn't go the way we were hoping. It was the first time the club had come back from 2-0 down, down a man in 13 years, so to see them fight back was aspiring.
Ryan Reynolds added: 'To see a football game and be invested like that was absolute torture. Normally I'm only heckled in my home so it was weirdly thrilling. I loved watching the club out there. For a moment it was pretty damn exciting. They showed their stuff in the second half. Very exciting.'
Owners have now arrived and are walking slowly around the pitch from the dugout site – without an umbrella!
Nathan Salt has reported: 'Supposedly five minutes to launch and the documentary crew are getting jittery so it suggests the two star attractions are close. It's typical Welsh weather, something they'll need to get used to if they are here for the long term.
Nathan Salt: 'Musical chairs here for the last 20 minutes which isn't a good look for such a big occasion.
'Written press have been pushed behind cameras without a view before being moved.
'Sky, BT, BBC and other broadcasters all getting a bit testy trying to get the best position. The stadium has never seen such activity.'
Rob McElhenney made the most out of his chance to meet the players deciding to take on goalkeeper Rob Lainton from the penalty spot.
The Wrexham co-owner got the better of the goalkeeper to find the back of the net and the two embraced afterwards.
Away from the media buzz there was also a training session at the ground today as there is the little matter of Torquay United's visit to Wrexham on Saturday at 3pm.
Wrexham's official Twitter account has posted images from the session which includes one of Reynolds speaking to one of the club's players.
It's safe to say Wrexham will have rarely seen the amount of press attention they have got today at the Racecourse Ground.
Nathan Salt has reported: 'Quite the hustle and bustle for position with the press conference being held in the Macron Stand opposite the dugouts.'
Our reporter at the scene Nathan Salt has said that despite the rain pouring down in Wrexham today, fans have been waiting since 10am just to get a glimpse of Ryan Reynolds and Rob McElhenney on their arrival.
A whole five and a half hours before the press conference is scheduled to get underway at 3.30pm!
The thought of a Hollywood duo owning your club would seem surreal to any club.
Their takeover of Wrexham has brought a lot of excitement to the large market town in the North Wales.
Not often fans of non-league sides will get the chance to have a picture with an A-lister outside the stadium!
After Tuesday's trip to Maidenhead, the Hollywood pair travelled straight to Wrexham the following day to see the Racecourse Ground up in person.
McElhenney who was a supporter of the club even before the takeover took to social media to speak about what was a special moment for him. He wrote: 'The emotion of the moment had just overwhelmed me. This whole experience has been beautiful. Thank you @wrexham_afc
Whether Ryan Reynolds ever watched Wrexham before the takeover seems highly unlikely but going off his response to his first visit to the Racecourse Ground, Wrexham is the only place to be!
https://www.instagram.com/p/CVjJ5GLMK0m/
A post shared by Ryan Reynolds (@vancityreynolds)
The press conference is expected to get underway at 3.30pm which has given the pair plenty of time to enjoy themselves and even have a drink before it gets underway.
If they had many more of those it would make an already unique press conference even more fascinating to watch!
Their first visit to Wrexham comes after a surprise appearance where they saw the non-league side play Maidenhead on Tuesday night.
The result didn't go quite to plan as they suffered a 3-2 defeat but going off McElhenney's post-match Twitter message he wasn't too disappointed!
A victory against Torquay on Saturday would be the perfect way to celebrate their first home game at the Racecourse Ground.
Good afternoon and welcome to Sportsmail's live coverage as Hollywood stars Ryan Reynolds and Rob McElhenney meet the media for their first press conference since their stunning takeover of Wrexham.
It feels like quite some time since the stunning announcement that they had bought the club back in February.
And after issues with travel and conflicting schedules the pair have finally been able to find the time to visit the United Kingdom and visit Wrexham for the first time since they invested £2m into the non league side.
We will provide you all the updates from the build-up to the press conference as well as what they have to say as they speak from the Racecourse Ground for the very first time.

Source: Read Full Article