Price says his 'mood has changed unbelievably' after making 'tough' change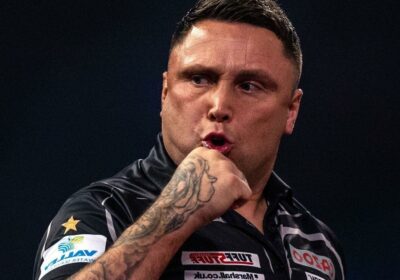 Gerwyn Price has admitted that his 'mood has changed unbelievably' after recently deciding to adopt a gluten-free diet.
Price revealed his lifestyle change to his 250,000 followers on Instagram earlier this week, and has admitted since making the change nearly three weeks ago he certainly feeling the benefits. In his post on the social media site the Welshman wrote: "Only been gluten free for the last two-three weeks. Unbelievable how my mood has changed for the better in such a short time."
The 2021 world champion also admitted he was surprised at the taste, claiming many of the gluten-free products that he had tried were in fact nicer than the original.
READ MORE: Andrew Gilding admits he should've never won UK Open after 300-mile drive
He added: "Was surprised that most gluten free products taste better than the ones with gluten." Whilst Price is clearly enjoying his new non-gluten diet, the Welshman did reveal that it times it can prove to be a challenge.
"It is tough to keep at it but will be worth it," he went on. "Hopefully in time, it helps with my water retention." 'The Ice Man' is no doubt hoping that his change in diet and lifestyle can help him out on the oche, as he hunts down his first ever Premier League title.
Do you think Gerwyn Price can become Premier League champion this year? Let us know in the comments section below.
It may not be just his darts game he is looking for improvements though, but also his rugby skills, with Price eyeing a return to the sport in which he once competed semi-professionally in. The Welshman has made no secret of his desire to return to the rugby field at some point.
Claiming he 'misses' his former rugby life, he told Sky Sports at this year's World Championship: "I'm constantly thinking about my old life and when I used to play rugby, when I used to be in a bit better shape to what I am now, I didn't have to suck it in as much back in the day.
"I miss it, I miss my old life and I just want a little bit of it back so I spoke to my wife about it a couple of months ago, if there's one weekend I'm off then I'm going to put my boots back on and try to get myself back in shape and back on the field because I just need to do something I really enjoy again, which I really miss."
And the 37-year-old seemingly had his wish granted late last month, as he got himself back into his rugby kit by joining Welsh side Dragons in a training session. Taking to Twitter he wrote: "Great Day today with the Dragons thanks for having me I have released how unfit I am think I need to join you for pre season conditioning."
READ NEXT:
Darts fans in bits as iconic referee dropped by PDC announces he's having a latte

Old clip emerges of Michael van Gerwen as 18-year-old at the UK Open with wild hair

Michael van Gerwen told Gerwyn Price that fans are 'part of the game' in booing debate
Source: Read Full Article