PGA players who turned down millions from LIV Golf could get equity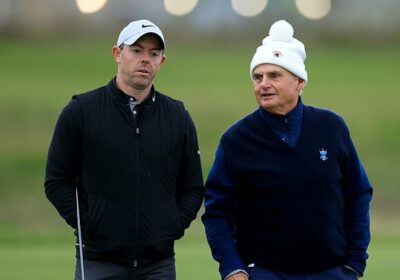 PGA players who turned down millions from LIV Golf's Saudi backers could get equity in newly formed company after controversial merger, says Tour board member Jimmy Dunne
The controversial merger comes after PGA defectors were paid handsomely

Now loyal PGA players are hoping to recoup some of the money they refused 

DailyMail.com provides all the latest international sports news
PGA golfers who refused to defect to LIV Golf in exchange for massive pay-outs from the Saudi Public Investment Fund could be rewarded with equity shares in the for-profit entity created by the Tour's merger with its rival.
Tour board member Jimmy Dunne told ESPN on Friday that the proposal would not be extended to LIV Golf players, but to the PGA ranks. Several top golfers, including Hideki Matsuyama, Patrick Cantlay, Jon Rahm and Cameron Young, are believed to have turn down nine-figure offers from LIV Golf at the urging of the PGA.
'The new [company] would grow, and the [current PGA Tour] players would get a piece of equity that would enhance and increase in value as time went on,' Dunne said. 'There would have to be some kind of formulaic decision on how to do that. It would be a process to determine what would be a fair mechanism that would be really beneficial to our players.' 
The PGA Tour faces a delicate balancing act in welcoming back LIV Golf players while also ensuring those who stayed loyal to the US-based circuit 'feel good' about their decision, Dunne said.
Earlier this week, the PGA Tour, DP World Tour and rival Saudi-backed LIV circuit — who have been involved in a bitter fight that had split the sport — announced a shock agreement to merge and form one unified commercial entity.
Jimmy Dunne (right) pictured alongside one PGA loyalist, Rory McIlroy, back in September
The merger left a sour taste in the mouth of players who stuck with the PGA Tour despite the massive signing bonuses offered by LIV Golf, with Rory McIlroy saying they were made 'sacrificial lambs' and should be compensated for their loyalty.
Dunne said that once the 'venom and self-centered concerns' are dealt with, they hoped they could find a way to reward their golfers while providing a pathway for LIV Golf players back to the PGA Tour and DP World Tour.
'As we get through that and we come up with a methodology that people can re-enter, when we establish what the criteria will be, there needs to be something that people that didn't go (to LIV Golf)… feel good about it,' Dunne told Golf Channel.
'I don't want it to be so outrageously punitive in nature. I want to try to get a balance and make sure that while everyone's needs are heard and felt that we do what's right for the game.
'We have to make sure that whatever it is that we finalize, that they feel good about their decisions (to remain on the PGA Tour)… I don't think it's going to be easy and I don't think we're all going to agree, but I think we can get there.'
Jon Rahm (left) and Scottie Scheffler (right) are among those who resisted LIV Golf 
Dunne, who helped broker the merger, also said the PGA Tour was ready to 'walk away' if they felt there was anything that would have hurt the game.
He added the Saudi Public Investment Fund (PIF) would not control the professional game, especially with PGA Tour Commissioner Jay Monahan installed as CEO of the new entity.
'By definition, as much as I liked the people I dealt with, the game of golf is too important, the legacy of the PGA Tour is too important,' Dunne added.
'The people that we have in place have too much experience that… there's no way on God's green earth that we're going to give up control.'
Source: Read Full Article