Pentathlon favourite rides around in tears as her horse refuses to jump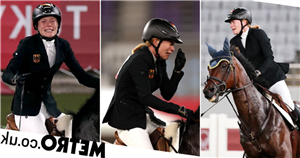 There were bizarre scenes at the Olympics on Friday as women's modern pentathlon favourite Annika Schleu rode around in tears as her horse refused to cooperate in the show jumping event.
The German was top of the leaderboard after the first two events – fencing and freestyle swimming – and had the biggest lead in Olympic history but her competition completely unravelled in the equestrian.
Each competitor is given a randomly assigned horse and unfortunately for Schleu she was given the ironically named Saint Boy, who had already refused to jump for Gulnaz Gubaydullina who scored zero.
The 31-year-old, who finished fourth in Rio five years, struggled to take command of the uncooperative horse and was in tears before her round had even started.
Schleu looked utterly panicked by the situation and bereft of ideas on how to get Saint Boy to do as he was told, though managed to gain some measure of control and initiate her run.
Saint Boy jumped the first but looked very shaky on the second, almost refusing the fourth jump before bailing on the fifth and clattering into the fence.
For more stories like this, check our sport page
Follow Metro Sport across our social channels, on Facebook, Twitter and Instagram
Source: Read Full Article