Patriots Cut Cam Newton After Covid-Related Disruptions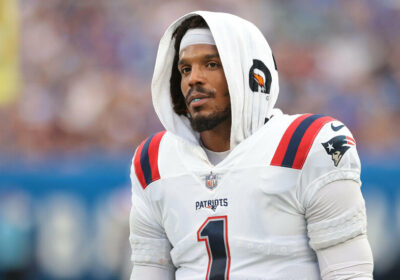 After entering training camp as New England's starting quarterback, Cam Newton didn't just lose that job on Tuesday — he lost his roster spot, too.
The Patriots cut Newton, the N.F.L.'s most valuable player in 2015, as they began paring their roster to the league-mandated 53 players before Tuesday's 4 p.m. deadline. The move allows the rookie Mac Jones, who excelled in camp and the preseason, to start in Week 1 against the Miami Dolphins on Sept. 12. Newton's release was first reported by The Boston Globe.
Newton, 32, started all three of New England's preseason games, including Sunday's preseason finale at the Giants, in which he played two series. But he missed three days of practice last week because of what the team said was a "misunderstanding" related to Covid-19 protocols after a team-approved medical appointment out of the area. His absence enabled Jones to take more first-team snaps.
"I feel like everybody's way ahead of where they were last year," Coach Bill Belichick said of Newton on Tuesday, hours before news of his release surfaced. "Certainly, he started at a much higher point than what he did last year, so definitely moving in the right direction."
Not long after he was released, Newton thanked his fans in a statement posted on his Instagram account.
"I really appreciate all the love and support during this time but I must say … please don't feel sorry for me!! I'm good," Newton wrote.
Last season, his first in New England, Newton's ups and downs were emblematic of the league's struggles to play during the pandemic. He was infected with the coronavirus early in the season, missing one game and forcing the N.F.L. to move the Patriots' game against the Kansas City Chiefs to a Monday night after Newton tested positive for the virus. The Patriots flew to Kansas City, Mo., in two planes — one for players and staff who were exposed to Newton and one for everyone else.
After the season, Newton said his time away from the team so soon after arriving had made it harder for him to learn the playbook.
In training camp this season, Newton declined to confirm whether he received a vaccine against the virus, saying only that the issue was too personal to discuss. But after his medical appointment last week, he went through a five-day process to rejoin the team that applies only to unvaccinated players.
Under N.F.L. rules, unvaccinated players must be tested every day for the virus, as opposed to once a week for vaccinated players, and they cannot move around the team facility or mix with teammates as freely as vaccinated players.
Once one of the league's most electrifying players as the franchise quarterback for the Carolina Panthers, Newton had the misfortune of sustaining a serious foot injury in 2019, limiting him to two games, a few months before a new regime took over the front office and a pandemic disrupted off-season player movement. The Panthers released him, but as other quarterbacks signed quickly, Newton languished for months, reportedly unwilling to be a backup.
In the depressed market for his services, the Patriots saw an opportunity. After cutting ties with Tom Brady, the team signed Newton to a one-year, incentive-heavy deal in June 2020, and he promptly beat out Jarrett Stidham in training camp. Starting 15 games for New England, Newton rushed for 12 touchdowns and completed 65.8 percent of his passes, though the offense sputtered for vast chunks of a season undermined by infrequent practices and meager skill players.
The Patriots, wanting an established quarterback on the roster before free agency began, re-signed Newton in what was a prelude to a bigger investment at the position. For the first time in his 22 drafts in New England, Belichick drafted a quarterback in the first round, taking Jones at No. 15.
No defense in 2020 could stop Jones, who at the University of Alabama threw for 4,500 yards with 41 touchdowns and four interceptions, leading the nation with 11.2 yards per attempt and a 77.4 completion percentage. A traditional pocket passer, Jones was an outlier among the quarterbacks chosen in the first round of the draft.
But the Patriots were enamored of his awareness, steady improvement and command of the offense. In the preseason, he completed 36 of 52 passes for 388 yards and a touchdown.
"I'm going to be ready whenever my time comes up," Jones said Sunday night.
That time has come, and against the Dolphins in Week 1, he will most likely start opposite the player he succeeded at Alabama, Tua Tagovailoa. Newton could be attractive to teams with unsettled backup situations, among them the Jets, Dallas, Houston and Washington. But it is also possible that his vaccination status will deter other teams from signing him because they do not want to risk disrupting their season.
Source: Read Full Article