Pac-12 news: The SMU visit, NFL matters and the Big 12's $100 million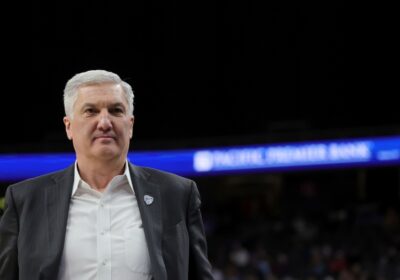 Our weekly roundup of news stories impacting the Pac-12 …
1. Mr. Kliavkoff goes to Dallas
Pac-12 commissioner George Kliavkoff and a contingent of conference executives met with SMU officials this week on campus in Dallas, a strong sign the Mustangs are close to receiving a membership invitation.
Kliavkoff also attended SMU's basketball game (against Temple) and sat in a suite with university president Gerald Turner.
That's telling.
The nuts and bolts of conference expansion play out in private, with back-channel deals and secret votes. Kliavkoff's appearance at a men's basketball game indicates the expansion process is nearing an end.
Also, that SMU leaked his campus visit.
Whether that impacts the Pac-12's decision to invite the Mustangs, we cannot say.
2. Approaching the finish line?
Any membership invitation to SMU (or other schools) seemingly is contingent on the Pac-12 schools signing a media rights agreement. Everything runs on parallel tracks.
It's entirely plausible that Kliavkoff is much closer to resolving this saga than perhaps we realize.
That final bids are in place or about to be submitted.
That those deals are contingent upon levels of game inventory that require 12 schools.
That Pac-12 presidents are open to expansion, likely with two new members but possibly with four (as we pondered recently).
And that sometime in the next few weeks, the conference will have a bevy of announcements to make. The Hotline's unofficial deadline for resolution is the Ides of March.
We aren't fully convinced the process will play out in that fashion, but it's one of several scenarios worthy of consideration.
3. Big goodbye to Texas, Oklahoma
The Big 12 on Thursday announced the Longhorns and Sooners will move to the SEC a year early, in 2024 — a date that coincides with the first year of the expanded playoff, the first year of the SEC's new deal with ESPN and the first year of USC and UCLA competing in the Big Ten.
In exchange for leaving the Big 12 before its current media contract cycle expires, Texas and Oklahoma will forgo $100 million in revenue (combined).
That certainly seems like a nice chunk of change for commissioner Brett Yormark to dangle as an enticement for new members.
Hello, Four Corners schools!
However, the situation is more complicated.
A significant portion of that $100 million — we believe the number is at least $75 million — will be funneled to the current Big 12 stakeholders (Fox and the remaining schools) to offset the revenue lost by not having the ratings-driving behemoths in the conference for the final contract year.
If the Big 12 does, in fact, hope to lure Arizona, Arizona State, Utah and Colorado, the dollar amount seemingly will be closer to $5 million per school than $25 million.
4. Two down, one remaining
Yormark used the Texas and Oklahoma news as a platform to reiterate the goals for his first year in charge of the Big 12, according to Sports Illustrated:
— Sign a media rights deal.
— Solve the Texas and Oklahoma exit issue.
— "Aggressively pursue" additional expansion.
Having accomplished the first two, his sights are now set on the membership issue.
The comment certainly could be taken as another attempt by Yormark to destabilize the Pac-12, along the lines of: "We have a media deal in place with Fox and ESPN, and we're coming for your schools."
It also highlights the contrasting pace with which Kliavkoff and Yormark have gone about their business — the former taking a methodical approach and the latter moving with maximum urgency on everything.
The situations are not identical, and we'll reserve judgment until the Pac-12 presidents approve, or reject, a media deal.
5. The Combine approaches
The NFL extended invitations this week to the Scouting Combine in Indianapolis, which is scheduled for early March in advance of the 2023 draft later this spring.
Only 32 players from the Pac-12 were offered spots in the talent showcase, the lowest total since at least 2014.
What should we make of that participation number?
That the conference didn't have a high level of elite linemen in 2022. Only two of the 32 invitees play the defensive front: ASU's Nesta Jade Silvera and USC's Tuli Tuipulotu.
Also, that the top quarterbacks are returning.
6. Senior Bowl standouts
Two players raised their draft value last weekend at the Senior Bowl, the premier competition for draft candidates (aside from the combine itself).
Stanford receiver Michael Wilson showed off his early-career form, before a series of injuries.
Related Articles
College Sports |


Hotline mailbag: Pac-12 partnerships with Amazon and SMU require the same calculation, expansion timeline, the 14-team option and more

College Sports |


Pac-12 expansion: Process moves forward with SMU and San Diego State as top targets

College Sports |


Pac-12 football: Washington, USC Oregon top the 2023 QB power rankings

College Sports |


Pac-12 media rights strategy: The market has spoken; time to cut a deal

College Sports |


Pac-12 recruiting: Our National Signing Day preview finds Colorado, Oregon, USC and perhaps ASU in the spotlight
Washington State linebacker Daiyan Henley was also impressive.
Of Henley, NFL Network draft analyst Daniel Jeremiah wrote the following:
"The big test for Henley was how he would hold up in coverage against all-star competition. Well, he passed that test with flying colors. He's instinctive and he can run. Henley has a chance to be a Day 2 (Rounds 2-3) pick."
7. March Madness outlook
The Pac-12's outlook for Selection Sunday has brightened in recent weeks, with both USC and Oregon racking up wins and improving their positions on the NCAA Tournament bubble.
At this point, we expect the conference to send at least three teams to the NCAAs, and as many as five.
The path to three bids: Arizona and UCLA, plus either USC or Oregon.
The road to five bids: Arizona, UCLA, USC, Oregon and an upset winner in the conference tournament — a 2023 version of Oregon State's accomplishment in 2021.
Three is more likely than five.
Our hunch: four.
*** Send suggestions, comments and tips (confidentiality guaranteed) to [email protected] or call 408-920-5716
*** Follow me on Twitter: @WilnerHotline
*** Pac-12 Hotline is not endorsed or sponsored by the Pac-12 Conference, and the views expressed herein do not necessarily reflect the views of the Conference.
Want more sports news? Sign up for the Sports Omelette to get all our analysis on Denver's teams.
Source: Read Full Article