Olympics Opening Ceremony primetime – Maria Taylor makes NBC debut & viewers baffled by Ralph Lauren & Armani outfits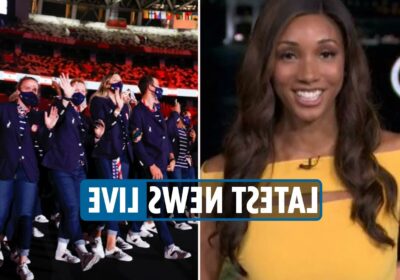 MARIA Taylor made a surprise NBC debut from Tokyo just days after leaving ESPN — and viewers of the Olympics Opening Ceremony were baffled by Ralph Lauren & Armani outfits.
The former ESPN host, who left the network despite a $3million offer to stay on after Rachel Nichols' controversial hot mic comments, will host NBC's late-night Olympic coverage.
However, Taylor's debut wasn't the only surprising thing to come out of the opening ceremony broadcast.
The Team USA Olympics apparel, designed by Ralph Lauren, were blasted as "preppy" and "pretentious" by online critics and Team Italy's Giorgio Armani-designed outfits were dubbed the "worst" of the ceremony.
After the Tokyo Olympics being delayed for a year due to the coronavirus pandemic, the Olympics returned to Tokyo – and to NBC – for the world to watch.
Because Tokyo is 13 hours ahead of the east coast, the Opening Ceremony started in Japan at 8pm, which is 7am EST.
The highly anticipated Olympic Opening Ceremony also started airing on Friday night at 7:30pm EST.
The Olympic's opening ceremony took place at the Olympic Stadium in Shinjuku City, Tokyo.
Read our Tokyo Olympics 2021 live blog below for the very latest news and updates…
Danielle Cinone

'THE OLYMPIC FLAG IS UP!'

Danielle Cinone

THE ROCK INTRODUCES TEAM USA

Danielle Cinone

WHAT DID THE INTERNATIONAL OLYMPIC COMMITTEE PRESIDENT SAY?

IOC boss Thomas Bach claimed the troubled Olympics would shine a 'light at the end of this dark tunnel' for the rest of the world – with 11,000 athletes converging from around the world to compete.

Bach claimed: "Today, the Olympic athletes are sending a resounding message of hope to our fragile world.

"The Opening Ceremony will highlight this Olympic message of resilience, solidarity and unity of all humankind in overcoming the pandemic.
Danielle Cinone

MARIA TAYLOR'S NBC SPORTS APPEARANCE

Olympic host Mike Tirico welcomed Maria Taylor by saying: "We are thrilled to welcome a new member to our NBC sports and Olympic family: Maria Taylor.

"Maria, welcome to Tokyo and the team."

Danielle Cinone

JILL BIDEN'S LETTER TO TEAM USA

Danielle Cinone

MARIA TAYLOR'S 'OLYMPIC DREAM COME TRUE'

Danielle Cinone

STREAMING ON VARIOUS NBC PLATFORMS

Olympic sports will be available to stream on various NBC platforms, and the gymnastics event will likely be taped and repackaged to air that evening in primetime.

Women's Qualifying: Sunday, July 25, at 2:10am ET. The top eight teams will go on to compete in the Team Finals. Next, the top 24 gymnasts will advance to the individual all-around finals. Then, the top eight gymnasts on each apparatus will advance to the apparatus finals.
Women's Team Finals: Tuesday, July 27, at 6:45am ET. As a collective whole, Team USA will be looking to clinch their third straight Olympic gold.
Women's Individual All-Around Finals: Thursday, July 29, at 6:50am ET.
Women's Vault and Uneven Bars Finals: Sunday, August 1, at 4am ET.
Women's Floor Exercise Finals: Monday, August 2, at 4am ET.
Women's Balance Beam Finals: Tuesday, August 3, at 4am ET.

UZBEKISTAN'S OKSANA CHUSOVITINA IS AT HER EIGHTH OLYMPIC GAMES

TEAM ITALY'S OUTFITS DUBBED 'THE WORST'

The white tracksuits, designed by Georgio Armani, turned heads at the opening ceremony.

Yahoo! Sports slammed the outfit for looking like an "Italian flag ate Pac-Man and then got violently ill all over a white shirt."

Danielle Cinone

'PREPPY' AND 'PRETENTIOUS'

The Team USA Olympics outfits debuted at the Opening Ceremony on Friday have been blasted as "preppy" and "pretentious" by online critics – who slammed designers Ralph Lauren.

The storied American fashion house outfitting the nation's best athletes for the postponed 2020 Olympics called the style an "all-American look" with jeans, a blue blazer, white sneakers and a subtle star-spangled handkerchief.

Danielle Cinone

SIMONE BILES AND SQUAD DO NOT WALK WITH TEAM USA

Simone Biles and the rest of the Team USA gymnastics squad did not walk in the opening ceremony of the 2020 Tokyo Olympics on Friday.

The women's gym team opted not to walk because it is "focused on preparation", Meredith Yeoman, a spokeswoman for USA Gymnastics, told the New York Times.

Danielle Cinone

THE OFFICAL START

The 2020 Tokyo Olympics officially started on July 23, 2021.

You can find the full schedule for Olympics Games here, but note all times are BST.

Danielle Cinone

TONGA'S RETURN

Danielle Cinone

WHICH COUNTRY HAS THE YOUNGEST ATHLETE?

Danielle Cinone

TEAM ITALY ARRIVES AT THE STADUM

Danielle Cinone

TEAM USA GOES TO THE STADIUM

Danielle Cinone

'PREPPY' AND 'PRETENTIOUS'

The Team USA Olympics outfits debuted at the Opening Ceremony on Friday have been blasted as "preppy" and "pretentious" by online critics – who slammed designers Ralph Lauren.

The storied American fashion house outfitting the nation's best athletes for the postponed 2020 Olympics called the style an "all-American look" with jeans, a blue blazer, white sneakers and a subtle star-spangled handkerchief.

Danielle Cinone

WHITE HOUSE SHOWING RED, WHITE, AND BLUE

Danielle Cinone

STREAMING ON VARIOUS NBC PLATFORMS

Olympic sports will be available to stream on various NBC platforms, and the gymnastics event will likely be taped and repackaged to air that evening in primetime.

Women's Qualifying: Sunday, July 25, at 2:10am ET. The top eight teams will go on to compete in the Team Finals. Next, the top 24 gymnasts will advance to the individual all-around finals. Then, the top eight gymnasts on each apparatus will advance to the apparatus finals.
Women's Team Finals: Tuesday, July 27, at 6:45am ET. As a collective whole, Team USA will be looking to clinch their third straight Olympic gold.
Women's Individual All-Around Finals: Thursday, July 29, at 6:50am ET.
Women's Vault and Uneven Bars Finals: Sunday, August 1, at 4am ET.
Women's Floor Exercise Finals: Monday, August 2, at 4am ET.
Women's Balance Beam Finals: Tuesday, August 3, at 4am ET.

WHEN WILL THE OPENING CEREMONY BE AIRED?

The Primetime Opening Ceremony can be viewed 7:30pm ET to midnight.

The Overnight Replay of Opening Ceremony will be aired 12:35am to 5:00am ET.

GREECE KICKED OFF PARADE OF NATIONS

Danielle Cinone

EXPLOSIVE OPENING CERMONY

The Tokyo 2020 Olympic Games have officially been launched after an explosive opening ceremony – which included over 1,800 drones flying in unison to form a spectacular, illuminated globe.

Having been delayed by year due to the coronavirus pandemic, expectations were high for the show-stopping event.

The Tokyo skyline was illuminated by fireworks after the Olympic flame was delivered to the Japanese capital.

At one stage, nearly 2,000 DRONES soared to the sky to create a glittering globe – with many quick to call it 'the enduring image of these Games' already.

Danielle Cinone

SIMONA BILES SHARED PHOTO OF HER GYMNASTICS SQUAD

Biles uploaded a photo with Sunisa Lee, Jordan Chiles, Grace McCallum, Jade Carey and MyKayla Skinner ahead of the ceremony

Credit: Instagram

Danielle Cinone

ARGENTINA JUMPS

Danielle Cinone

SIMONE BILES AND SQUAD DO NOT WALK WITH TEAM USA

Simone Biles and the rest of the Team USA gymnastics squad did not walk in the opening ceremony of the 2020 Tokyo Olympics on Friday.

The women's gym team opted not to walk because it is "focused on preparation", Meredith Yeoman, a spokeswoman for USA Gymnastics, told the New York Times.

Source: Read Full Article