Olympic-size tensions over bizarre timing of world championships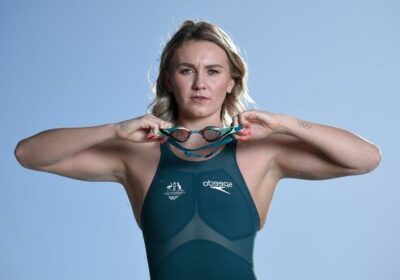 Dolphins head coach Rohan Taylor says Australia will reluctantly send a team to the controversial 2024 world championships as leading nations and athletes continue to voice their unease at the contentious meeting.
FINA, the sport's governing body, is determined to forge ahead with the event in Doha, set to be staged just months before most nations' Olympic trials and six months before the Games themselves.
Emma McKeon should be among the relay medal-winners on night one of racing in Birmingham.Credit:Getty
Never before has a world championships been held in an Olympic year, while Doha would be the third world titles in as many years as FINA tries to make up for COVID disruptions. It says it has contractual obligations to the hosts and will press ahead with the bizarre timeslot.
A host of heavyweight swimming nations, including Australia, have made it clear they believe the Doha event to be a folly, while some of the biggest names in the sport have openly derided the planning and have vowed not to compete.
It's an admirable stance complicated by a FINA landmine; only the top three relay finishers at the 2023 world championships in Fukuoka, Japan, will qualify directly for Paris. The rest must race in Doha or miss out.
Taylor said Australia would race in some capacity if push came to shove, but the preference was for the meet to be mothballed completely. He fears for the wellbeing of swimmers and will tell FINA officials as much when they are in Australia later this year for the world shortcourse titles in Melbourne.
Emma McKeon and Cody Simpson at the pool in Birmingham.Credit:Getty
"We will participate if there is a meet on. Our preference would be to just have an Olympics in 2024. If we had an opportunity to present what we feel would be a better situation for our athletes, we'd love to do that," Taylor said.
"It absolutely puts pressure on [the athletes]. Their careers are built on performance. We're about the wellbeing of the whole person but the reality is they have to peak for big events and when you are putting things back to back to back, it becomes quite difficult.
"It's great to have an opportunity to race but you have to be mindful of what the fallout might be."
The steps towards the Olympics are planned with military precision and in no universe did Australia envisage a trip to Qatar at the start of an Olympic year. Headliners Ariarne Titmus and Emma McKeon already sat out this year's swiftly arranged world titles in Budapest and will make their 2022 appearance in Birmingham.
Taylor said their presence, along with the influx of inspirational para swimmers, had lifted energy levels among the squad and he was confident the team could back up strongly from Budapest.
"We hope so, that's been the plan from the beginning. The worlds were dropped in there but we stuck to the plan and wanted to have the opportunity to swim fast at this time of year, which is when the Olympics will be.
"With the guys that came into the group, the para athletes as well as those athletes who were just swimming Comm Games, that really changed the dynamic. That was great. It's that balance between putting them through the work and resting them. Two major competitions in six weeks is a major test for them."
On paper, night one looks like it will be a bountiful one for the Australians. They are heavy favourites in the women's 200m freestyle (Titmus), men's 400m freestyle (Elijah Winnington), men's 200m breaststroke (Zac Stubblety-Cook) and the mixed 4x100m freestyle relay.
News, results and expert analysis from the weekend of sport sent every Monday. Sign up for our Sport newsletter.
Most Viewed in Sport
From our partners
Source: Read Full Article