Olympic gymnastics: Simone Biles and Suni Lee to compete in beam on last day of individual finals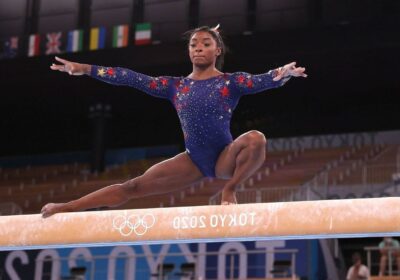 On Monday, gymnastics event finals started up again at the Tokyo Olympics with men's vault and rings and women's floor. After a stunning floor performance, American Jade Carey became an Olympic champion.
Tuesday morning will mark the last time we get to watch our favorite gymnasts compete at the Tokyo Olympics. The final day of gymnastics event finals promises to be special as Simone Biles makes her return to the competition floor. The 24-year-old withdrew from the women's team final and other individual events to focus on her mental health upon experiencing the "twisties".
Olympics medal tracker | Schedule
Biles, who earned a bronze medal in beam at the 2016 Rio Games, joins all-around gold medalist Suni Lee in her quest for one more piece of hardware.
If you've been following gymnastics at the Games thus far, you already know the action gets underway incredibly early. You also know we'll have you covered with live updates throughout:
One more time
And just like that, we're on to the last day of apparatus finals. All-around champions Hashimoto Daiki (Japan) and Suni Lee (USA) are back in action as titles will be decided on parallel bars, balance beam, and horizontal bar. Not to take away from American men's gymnasts Sam Mikulak (parallel bars) and Brody Malone (horizontal bar), but all eyes will be on the last event of the women's individual finals, because Simone Biles is back. The GOAT joins newly minted gold medalist Suni Lee in representing for Team USA on the beam.
Beam is the lone apparatus where past results haunt Biles. Despite being the reigning world champion on beam, it was the only event of Rio 2016 in which the four-time Olympic gold medalist made a real mistake (she still won the bronze).
As for Lee, she was third in qualification behind specialist Guan Chenchen (China) and Tang Xijing (China), who represent a country still searching for its first women's individual medal of these Games. China's only gold on balance beam to date was won by Deng Linlin at London 2012.
The schedule:
4 a.m. ET: Men's parallel bars
4:50 a.m. ET: Women's beam
5:39 a.m. ET: Men's high bar
Shin ekes out gold, with superhuman vaulting on display across the board
The competition was full of mind-boggling vaults, but in the end, South Korea's Shin Jeahwan edged ROC team's Denis Abliazin for the gold medal. Though the two tied in average score, Shin won the tiebreak because he had the highest single score on a vault (a 14.833 for his front handspring 2½ twist vs. Abliazin's 14.800 for his Tsukahara double pike).
Armenia's Artur Davtyan won the first Olympic medal in gymnastics for his country with a bronze and a 14.733 average. Turkey's Adem Asil threw a jaw-dropping front handspring double pike half to earn a 15.266, the highest score of any vault in any round of the Olympics. But he put his hands down on his second vault, a Tsukahara double pike, and ended up sixth. — Amy Van Deusen
Final results:
Shin Jeahwan, Korea – 14.783
Denis Abliazin, ROC – 14.783
Artur Davtyan, Armenia – 14.733
Carlos Edriel Yulo, Philippines – 14.716
Nikita Nagornyy, ROC – 14.716
Adem Asil, Turkey – 14.449
Ahmet Onder, Turkey – 14.066
Caio Souza, Brazil – 13.683
---
Carey gets her redemption on floor
American Jade Carey entered the floor final as a gold-medal favorite and she delivered, competing a beautiful laid out double-double first pass, then rocking her tucked double-double and full-twisting double layout as well. With the highest difficulty of the day (four-tenths of a point higher than any other competitor) she competed second and her score held for the rest of the meet.
Thirty-year-old Italian Vanessa Ferrari stuck her first two passes — a tucked double-double and a whip to immediate full-in — absolutely cold, and drew everyone in with her expressive dance. The 2006 world all-around champion earned a 14.200 for the silver.
Japan's Mai Murakami and the ROC team's Angelina Melnikova tied for bronze, both with powerful double layouts as their second pass. Melnikova mounted with a gorgeous full-twisting double layout, while Murakami threw a nice tucked double-double. Their matching difficulty and execution scores earned them both the bronze with no tiebreak. — Amy Van Deusen
1. Jade Carey, USA – 14.366
2. Vanessa Ferrari, Italy – 14.200
3. Mai Murakami, Japan – 14.166 | Angelina Melnikova, ROC – 14.166
5. Rebeca Andrade, Brazil – 14.033
6. Jessica Gadirova, Great Britain – 14.000
7. Jennifer Gadirova, Great Britain – 13.233
8. Viktoriia Listunova, ROC – 12.400
Breaking news: Biles on beam!
Chinese men dominate on rings
It was a 1-2 finish for China in the first gymnastics final of the day Monday. Liu Yang took home the gold in rings and You Hao finished with the silver. The duo, who competed back to back, held up a Chinese flag and posed together for photos once the final scores were revealed.
It was the first gold medal for China in artistic gymnastics during the 2020 Games.
Yang, who was the 2014 world champion in the event, took a small hop on the landing of his double-twisting double-tuck dismount landing, but otherwise was nearly flawless and earned a 15.500. Hao finished 0.2 behind with a 15.300.
Greece's Eleftherios Petrounias earned the bronze. — D'Arcy Maine
Final results:
Liu Yang, China – 15.500
You Hao, China – 15.300
Eleftherios Petrounias, Greece – 15.200
Samir Ait Said, France – 14.900
Ibrahim Colak, Turkey – 14.866
Denis Abliazin, ROC – 14.833
Adem Asil, Turkey – 14.600
Arthur Zanetti, Brazil – 14.133
---
🚨3⃣0⃣ minutes to go until @Tokyo2020 #ArtisticGymnastics Apparatus Finals! 🚨

Today's Start List 👇#Tokyo2020 #Olympics #StrongerTogether pic.twitter.com/aSC7zNc7Yi

Next up: Vault, floor and rings

Monday was the second day of individual event finals, and it was a combination of men's and women's events again: men's rings, women's floor and men's vault. The top eight highest-scoring gymnasts from qualifying advanced on each event, with a maximum of two from any one country. The scores didn't carry over, however — the highest score Monday was crowned Olympic champ.

The schedule:

4 a.m. ET: Men's rings
4:45 a.m. ET: Women's floor
5:54 a.m. ET: Men's vault

Women's uneven bars: Derwael wins gold; Lee hangs on for bronze

Two-time world champion Nina Derwael, the top qualifier entering the finals, performed her highly difficult, jam-packed routine well to win the event easily for Belgium. She earned a 15.200 score — and her country's first Olympic gymnastics gold medal in history. The ROC team's Anastasiia Iliankova hit her routine cleanly for the silver medal — and American Suni Lee held on for bronze.

Olympic all-around gold medalist Lee was first in the lineup and was a little off from the start, missing the connections on her release moves in more than one section of her routine. Though her quick thinking throughout helped her avoid disaster, it affected her difficulty score. Lee earned a 14.500, seven-tenths of a point lower than her qualifying score.

It appeared several of the gymnasts, Lee included, might have been affected by the reportedly cold arena and lack of a one-touch warm-up. All-around bronze medalist Angelina Melnikova (ROC) couldn't get over on a pirouette and had to hop off, while China's Fan Yilin — the 2015 and 2017 world champion on bars — fell on her dismount. — Amy Van Deusen

Former Olympians took to Twitter to express their concern over the temperature and lack of one-touch warm-up ahead of events:

Final results:

Nina Derwael, Belgium – 15.200

Anastasiia Iliankova, ROC – 14.833

Suni Lee, USA – 14.500

Lu Yufei, China – 14.400

Elisabeth Seitz, Germany – 14.400

Melanie de Jesus dos Santos, France – 14.033

Fan Yilin, China – 13.900

Angelina Melnikova, ROC – 13.066

---

Men's pommel horse: Whitlock retains title

In the final men's event of the day, Max Whitlock of Great Britain, a three-time Olympian, repeated as pommel horse champion.

Competing in the tough opening spot, Whitlock's routine featured the highest start value in the meet, a 7.0, which was two-tenths higher than any of his competitors. And it was clean. He also earned the second-highest execution score of the night. His 15.583 set a tough bar for the next seven men to clear.

Lee Chih Kai of Chinese Taipei finished in the silver-medal spot and Japan's Kazuma Kaya earned bronze.

American Alec Yoder, who competed second, was off from the start of his routine. He had a major form break immediately in his routine and seemed to lose focus afterward. His 14.666 was enough to hold him in medal contention until Lee competed. He finished sixth.

Rhys McClenaghan, who earned attention as the funniest gymnast in Tokyo after posting about the "anti-sex beds" in the athletes village, was the first Irish gymnast to make an Olympic final. Unfortunately, he had difficulty throughout his routine and fell from the apparatus. He finished seventh. — Alyssa Roenigk

Final results:

Max Whitlock, Great Britain – 15.583

Lee Chih-kai, Chinese Taipei – 15.400

Kazuma Kaya, Japan – 14.900

David Belyavskiy, ROC – 14.833

Kohei Kameyama, Japan – 14.600

Alec Yoder, USA – 14.566

Rhys McClenaghan, Ireland -13.100

Sun Wei, China – 13.066

---

Women's vault: Andrade continues to wow, and Skinner's unlikely Olympic medal

One week ago, MyKayla Skinner thought that her Olympic competition had ended in the qualification round. Sunday, she stood on an Olympic podium, a silver medalist on vault.

With defending Olympic vault champion Simone Biles — whose withdrawal placed Skinner into the event — loudly cheering her on from the stands, Skinner opened the meet with a clean Cheng. It was her best vault of the Games and earned a 15.033, a higher score than either of her vaults during qualifying. On her second vault, an Amanar, Skinner took a slight hop to the left on her landing but kept her feet in bounds, good enough for a 14.8 and an overall score of 14.916.

Brazilian Rebeca Andrade, coming off her silver-medal performance in the all-around, competed two gymnasts later with the same vaults and more amplitude, besting Skinner by a little over a 10th of a point and ultimately edging her for gold. Brazil had never won an Olympic medal in women's gymnastics until earlier this week, and now Andrade has won two.

Unlike in qualifying and team competition, gymnasts are not provided with what is known as a "one-touch warm-up" or a last-minute opportunity to warm up on the competition apparatus immediately before they compete. That rule has been highly debated, as the conversation at these Games has centered around athlete health and safety, especially in gymnastics.

On American Jade Carey's first vault, she misstepped on the runway as she approached the springboard and somehow had the wherewithal to throw just a tuck off the table. She saved her body from injury, but the mistake ended her night. Immediately, gymnastics fans took to Twitter to call for #onetouchfinals. Impressively, though, Carey regrouped, went back to the start of the runway and performed a beautiful Amanar. Her dad, Brian, who is also her coach, hugged her tightly and consoled her after her turn.

Korean gymnast Yeo Seo-jeong performed a vault named for her and — 25 years after her father took silver in the event at the 1996 Games — earned the bronze. — Alyssa Roenigk

Final results:

Rebeca Andrade, Brazil – 15.083

MyKayla Skinner, USA – 14.916

Yeo Seo-jeong, Korea – 14.733

Alexa Moreno, Mexico – 14.716

Angelina Melnikova, ROC – 14.683

Liliia Akhaimova, ROC – 14.666

Shallon Olsen, Canada – 13.066

Jade Carey, USA – 12.416

---

Men's floor exercise: History for Israel

In the first of four gymnastics event finals on Sunday at the Ariake Gymnastics Centre, Artem Dolgopyat of Israel won the gold medal on floor.

It was the first medal ever for Israel in gymnastics and is the country's lone gold medal of the 2020 Olympics thus far, and third medal overall.

Dolgopyat, the 2020 European Champion on the event, had the highest score in qualifying and continued his dominance on Sunday. His mark was tied with Spain's Rayderley Zapata, but Dolgopyat won the second tiebreak because of a higher difficulty score.

Zapata earned the silver medal, and Ruoteng Xiao of China won the bronze.

Yul Moldauer, the only American in the competition, finished in sixth place out of eight. He stuck all but one of his tumbling passes, but he caught his foot during a flair sequence. — D'Arcy Maine

Final results:

Artem Dolgopyat, Israel – 14.933

Rayderley Zapata, Spain – 14.933

Ruoteng Xiao, China – 14.766

Sunghyun Ryu, South Korea – 14.233

Milad Karimi, Kazakhstan – 14.133

Yul Moldauer, USA – 13.533

Nikita Nagornyy, ROC – 13.066

Hansol Kim, South Korea – 13.066

---

Let the individual event finals begin

Sunday was the first day of individual event finals, and it was a combination of men's and women's events. The top eight highest-scoring gymnasts from qualifying advanced on each event, with a maximum of two per country. The preliminary scores were erased, however. The highest score on Sunday won.

The schedule — hope you had your coffee on hand for this one:

4 a.m. ET: men's floor
4:45 a.m. ET: women's vault
5:45 a.m. ET: men's pommel horse
6:27 a.m. ET: women's uneven bars

Could you tell us more about the Americans?

Funny you should ask. By this point, you've probably heard of Suni Lee. But if you haven't, you should definitely check out this story on her impressive all-around win. There is also a video of her and her dad doing backflips that we can't recommend strongly enough.

Jade Carey and MyKayla Skinner both qualified to Tokyo as individual competitors, and both have had wild rides during this Olympics. Skinner thought her Olympic experience was over after the qualifying rounds, while Carey took Biles' spot in the all-around when Biles withdrew.

Source: Read Full Article