Novak Djokovic' 'looks like he's been caught out' as he's spotted sat with Rita Ora at Rugby World Cup final | The Sun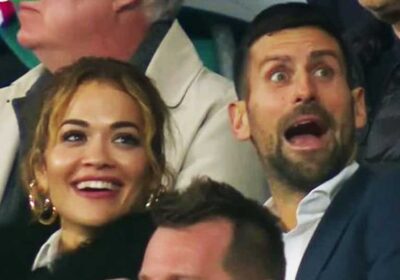 FANS were left perplexed by the combination of Novak Djokovic and Rita Ora at the Rugby World Cup final.
The unlikely duo were sat next to each other at the Stade De France.
They both watched as South Africa narrowly triumphed over New Zealand 12-11 in a tight final.
The game swung in the first half when New Zealand captain Sam Cane became the first ever player to be sent off in a Rugby World Cup final.
Fans online joked that Djokovic looked as though he had been "caught out" when the camera panned to him sat next to Ora.
Djokovic looked to be deep in conversation with the British singer before she clocked the two of them on the big screens and let out a big wave.
READ MORE ON RUGBY WORLD CUP
ROUX RASCAL
New footage shows what caused Farrell brawl as fans fume at South Africa star
LAMBO
Win a Lamborghini or £180,000 cash alternative from just 80p with our discount code
When Djokovic saw himself on the screen, he let out an over dramatic gasp and appeared to be shocked.
Fans on Twitter were left baffled by the random duo.
One fan said: "Was that Rita Ora hanging out with Djokovic? Wasn't expecting that."
Another wrote: "Saw Novak Djokovic sat with Rita Ora. Ora smile and waves, Djokovic looks like he'd been caught out and embarrassed."
Most read in Rugby Union
'Embarrassing'
Fans claim Rugby World Cup is 'rigged' in New Zealand vs South Africa final
N ZEALAND 11 S AFRICA 12
Springboks snatch World Cup final after shock red card for Kiwis
RED MIST
New Zealand captain Sam Cane handed first EVER Rugby World Cup final red card
NEW ZEALAND 11 SOUTH AFRICA 12
Springboks retain title by a point in nerve-wracking final
Ora was attending the final alongside boyfriend Taika Waititi.
The Kiwi filmmaker was there to support his native country in their defeat to the Springboks.
Ora wore a replica New Zealand rugby top in support of the Kiwis and her husband.
Source: Read Full Article