Night riders: Why Kelly Slater's divisive desert wave pool has put elite surfers in spotlight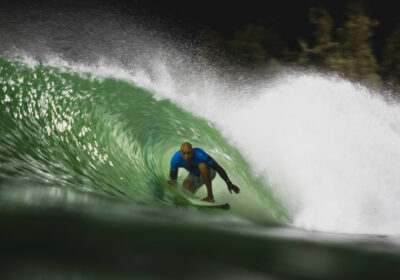 Save articles for later
Add articles to your saved list and come back to them any time.
Kelly Slater's divisive desert wave pool takes centre stage in the surfing world again this weekend, quite literally in the spotlight as night surfing makes its professional debut.
The Surf Ranch Pro returns as a Championship Tour event, with the tour converging on Lemoore, California, for the two-day affair held about 135 kilometres from the ocean in waves that can last 45 seconds.
The World Surf League's controlling stake in the multimillion-dollar project led to its tour debut in 2018, to mixed reviews to say the least.
South African star Jordy Smith described the event as "predictable and really not that exciting to the viewers after watching the 10th surfer go back into the barrel for another 10 seconds" in 2021. Several high-profile withdrawals followed before the event was canned last year.
In an attempt to spice up this season's return to the wave pool, the WSL has introduced a new format a week out from the competition.
Winners of the initial qualifying round (starting early on Sunday morning, AEST) progress straight to the finals from the four-athlete heats.
Kelly Slater tucks into a barrel at his own artificial wave pool in the Californian desert.Credit: Kenny Morris/World Surf League
Fourth-placed surfers will be eliminated immediately. Second- and third-place finishers are thrown into sudden-death heats under lights on an artificial wave.
"I haven't surfed under lights at Surf Ranch yet but I'm sure that it'll be spectacular scenes," world No.3 and rising Australian star Molly Picklum told this masthead.
"I've done a lot of night sessions at Urbnsurf in Melbourne and, absolutely, it'll change things for sure.
"It's like when you're surfing with the sun on top of the wave and you can't see where the lip is. You're kind of guessing, surfing blind. I'm not sure if [Surf Ranch] is like that, but I do know from experience that lighting obviously makes surfing very different."
California's Surf Ranch under lights.Credit: Getty
Picklum's first visit to the desert and Slater's wave pool has led her blonde hair to start turning green, "but I think that's from the hot tub afterwards", as she traverses a steep learning curve on the artificial break.
The 20-year-old said she understands the lukewarm reception the event receives from fans based on her own experience as a spectator. But being in the water at Lemoore has given her a new perspective on the controversial tour stop.
"When you watch it from your couch, it doesn't give it justice to the complexity of the wave and, at the same time, the simplicity of it," she said.
"I remember sitting and watching thinking, 'Wow, that wave looks so ripable'. But the pace of the wave, it's a bit quicker and unnatural compared to what you're used to.
Australian Jack Robinson during his last competitive appearance at the Surf Ranch Pro in 2021.Credit: Pat Nolan/World Surf League
"From the couch, I thought it'd be a bit easier. You've kind of got to be here to feel it.
"It's cool that the WSL is trying to find new ways to promote the sport and make it more interesting for the viewers."
Fellow Australian and world No.3 Jack Robinson is a fan of honing his craft on artificial waves and said the Surf Ranch Pro's return is just part and parcel of life on tour.
"It's just how the tour is," he said. "If you're not an all-round [surfer], it's going to be hard. You have to adapt to anything they throw at you and play the game.
"It's fun to surf but, as much as everyone says it's the same wave every time, the wave actually changes a little bit each time.
"You've got to stay focused on the wave and try and enjoy it, too, because you don't get that many practice sessions to enjoy it."
Sports news, results and expert commentary. Sign up for our Sport newsletter.
Most Viewed in Sport
From our partners
Source: Read Full Article