Meet Drew Ricketts, the ex-football star who became a fire fighter and saved a woman's life | The Sun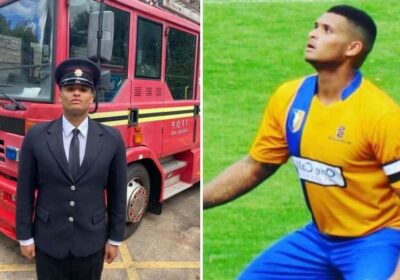 HAVING retired from football in May 2015, former Oxford and Mansfield ace Drew Ricketts is now protecting his community as a firefighter with Green Watch in Solihull.
The defender's career path since his contract expired at the end of the 2014/15 season has been a fascinating one.
From working in Bannatynes Health Club as a Personal Trainer to owning his own football coaching company, Ricketts is now thriving as a firefighter in his local fire service.
He said: "My only two hopes in life were to become a professional footballer or a firefighter.
"I feel very fortunate to say I have done both."
But there is much more to Ricketts' story than a career change.
READ MORE FOOTBALL NEWS
I once scored 4 vs Liverpool, now I run a coffee shop and play in my son's band
Win a Ferrari plus £5,000 or £125k alternative from 89p with our special discount code
It is what happened on the evening of November 1, 2020, while he was off duty, that put all of his training and instincts to the ultimate test.
Ricketts explains: "It was just an ordinary night.
"Me and my partner were on the way to drop a parcel off at her friend's house and as we came out of a petrol station.
"I could see a woman standing in the middle of the road turning people around.
Most read in EFL
Legendary reality show returns to Channel 4 after 10 years
Mayweather vs Chalmers delayed at virtually EMPTY O2 after ticket struggle
Fans horrified as West Ham keeper Fabianski forced off with gruesome eye injury
Inside once thriving seaside spot now a ghost town with homes falling into sea
HOW TO GET FREE BETS ON FOOTBALL
"Initially I didn't think much of it but as I took another look, I could see that there was a car with the windscreen caved in.
"Someone was calling for help and people looked distressed, so I grabbed my gloves and mask out of the glove box – which I carry around with me in case of an emergency – and I ran over to help."
As Ricketts approached the casualty, who was lying face down and unresponsive, he quickly realised the severity of the situation.
He said: "A woman told me that there had been an accident involving a man and that he wasn't breathing.
"Another woman was kneeling next to him in silence, which I knew was a sign of shock.
"It was clear that the gentleman had suffered significant injuries; he had multiple wounds to his head and there was no pulse.
"In the fire service, we call those situations a Category One incident, which means that it is an incident involving life-threatening injuries.
"For most people, running into that and being told that somebody isn't breathing could have been overwhelming.
"But because of my job, I have been trained to control my emotions in those types of environments. It was almost second nature.
"Because he had multiple open wounds, I had to try to mitigate the bleeding before initiating CPR."
As Ricketts carried out chest compressions, he was also on the phone to the emergency services.
His partner counted each compression, while he informed the ambulance crew of the situation, how many crew members were needed and the location of the incident.
"I went into work mode.
"You can't explain it to somebody that hasn't had that experience, but when I was providing treatment, it was like I was back in training school and my tutor was telling me what to do.
"Everything just came flooding back to me."
After two tireless rounds of CPR, there was still no sign of life. For each second that passed, the tension grew.
"We do a Level Three first aid course at work, which is basic life support.
"You learn about techniques and signs.
"After two sets, I had no response; but on the third set, on the twentieth compression, he gave me a breath and a painful groan.
"That told me that he was reacting to what I was doing.
"He lost consciousness again shortly after, but there was a faint pulse there.
"I put him into the recovery position and it was at that point that I saw the blue flashing lights and the ambulance crew arrive."
Months went by without Ricketts knowing whether the victim had survived.
He had returned to his everyday life, wondering whether the man recovered. One day, someone reached out to him.
"It was the man's family member.
"They told me that he had been in a coma for three weeks, had punctured both lungs, broke every limb in his body, but was back at home recovering.
"With my job, I don't really know what happens after they go to the hospital,
"But on this occasion, they found out where I worked, what station I work on and last Christmas they sent me some chocolates and a voucher to say thank you."
Ricketts' decisiveness saved a man's life.
It also resulted in a nomination for a Pride of Britain Award in 2021, after his name was put forward by the man's family.
The Pride of Britain Award was devised in 1999 and exists to honour British citizens who have acted bravely or extraordinarily in challenging situations.
The pride he felt when discovering the news is a moment Ricketts will never forget.
He said: "It was on 27th May 2021 – two days after my birthday. 
"I went into the station and the gentleman's family had left me a card with a fire angel teddy bear, and in the card, they expressed how they can't thank me enough and how they wouldn't ever be able to repay me for what I did.
It was then that they mentioned that I had been nominated for the Pride of Britain and Pride of Birmingham Award. It was surreal. I didn't know how to take it.
"Unfortunately, I didn't win it but that wasn't why I did it. I wasn't trying to be a hero.
It is just who I am as a person. I am willing to help anybody and luckily I was the right person, in the right place, at the right time."
Since the nomination, Ricketts has rediscovered his passion for football, having fallen out of love with it after exiting Mansfield Town.
When he is not working, he plays for local non-league teams on a Saturday and Sunday, as well as managing his own coaching business.
Despite temporarily turning his back on the game, he has always treasured the memories made.
Ricketts said: "When I left Oxford, I found it difficult moving around, being away from home and not knowing where I was going to be from one season to the next.
"I took some time away from it and it was just what I needed.
Read More on The Sun
BBC fans rejoice as beloved drama lands TWO more series and Christmas specials
Martin Lewis fan reveals how they boosted pension by £11,500 with easy hack
"I have such great memories of my time at Oxford. Those years stay with you.
"I think I saw more of my teammates and coaches than I did my family!"
Source: Read Full Article