Max Verstappen WINS third consecutive F1 title without even driving in Grand Prix in historic first | The Sun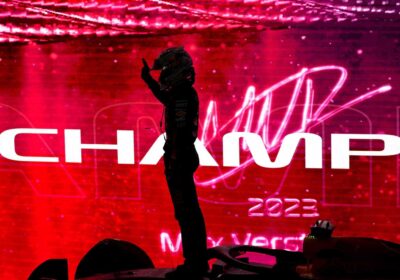 FOR once he didn't win, but Max Verstappen's second-place finish in the Qatar GP sprint race was enough to clinch him the F1 title.
In what has felt like the longest procession in F1 history, finally the Red Bull ace has his third world crown – and there are still SIX races to go.
F1 have introduced these 30-minute sprint races to liven up the action, strategically placing three of them towards the end of the year in the hope of prolonging a title fight.
But there was not a chance of taking this championship to the wire – especially with Sergio Perez's intent on making life difficult for himself.
The Mexican is under mounting pressure to justify his place in the team after a number of poor performances.
He's been openly criticised by Red Bull's motorsport advisor Helmut Marko on repeated occasions.
READ MORE ON MOTORSPORT
STINGING VETTEL
Vettel's bizarre new hobby as F1 legend spotted building 'insect hotels'
CAMPER
Win a 2023 VW Campervan + £1,000 or £44k cash from just 85p with our discount code
And he did himself no favours here after a poor qualifying and getting taken out of the sprint race by Esteban Ocon.
With Perez eliminated, Verstappen was crowned world champion before the race had even ended.
Verstappen started third and made a conservative start as he plotted his way through the early laps.
He mounted a late charge, passing George Russell to move into second place but ultimately yielded to Oscar Piastri, who won for McLaren.
Most read in Motorsport
QATAR DOUBT
F1 chiefs fear Qatar Grand Prix WON'T go ahead as planned amid safety concerns
Oscar worthy
Awkward moment Piastri is told live on TV his F1 qualifying time was deleted
Lance stropp
F1 star Stroll filmed 'SHOVING Aston Martin employee' before X-rated interview
SECRET FORMULA
Hamilton keeps cards close to chest over 'top secret' Mercedes upgrade