Man Utd legend Peter Schmeichel bizarrely slams Erik ten Hag for not making changes at half-time of Liverpool mauling | The Sun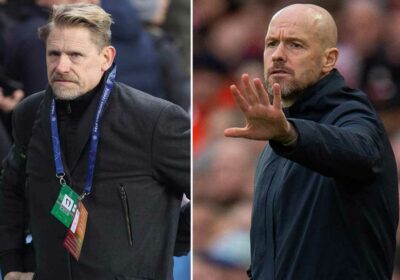 MANCHESTER UNITED legend Peter Schmeichel was "disappointed" that Erik ten Hag didn't make any half-time substitutes against Liverpool.
The Red Devils created chances in the first half against Jurgen Klopp's side, but found themselves 1-0 down.
Ten Hag has become renowned for his early tweaks this season, as evidenced by his brilliant recent half-time change against Barcelona – when he switched Wout Weghorst for match-winner Antony.
He opted to keep things the same yesterday, however, with disastrous conquences.
In the aftermath of the 7-0 defeat at Anfield, Schmeichel explained his main gripe with Ten Hag.
He told BBC Radio 5 Live: "I was quite alright at half-time because we have been behind before, we've had a team talk and Ten Hag has made a few changes and then the second halves have been different.
READ MORE ON MAN UTD
I played in Man Utd's Class of '92 – Fergie tried to resign me after I left
Bet £5 on Champions League football and get £20 in free bets with Ladbrokes
"I was expecting changes at half-time, I was expecting two changes and he didn't do them, which was disappointing.
"The same team came out but for me it was evident it wasn't working with Weghorst, it wasn't working with Antony.
"I think if you play with Antony, you have to play [Aaron] Wan-Bissaka behind him because he doesn't take part in defending.
"[Diogo] Dalot is in for a fair but of criticism today, which I think is unfair."
Most read in Football
FA launch investigation into Arsenal celebrations following last-minute winner
Football fan dies after brawl between Blackpool and Burnley supporters
Klopp RAGES at fan who ran on pitch and injured Robertson after Firmino goal
Man Utd stars in row during middle of Liverpool clash as players turn on Dalot
BETTING SPECIAL – BEST FOOTBALL BETTING SITES IN THE UK
Bruno Fernandes has been heavily criticised for his dreadful display, after he even appeared to ask to be subbed at 6-0.
But Schmeichel, 59, is more sympathetic to the stand-in skipper.
He added: "He has looked a little bit frustrated.
"I did the commentary for 5 Live for the Barcelona game and I was a little bit critical of him for giving the penalty away but also all the energy he spent talking to the referee about things that had already happen, they were well past it.
"I don't think he has played in what he considers to be his best role and that was the change I was looking for yesterday. I was looking for Bruno to be moved into that kind of No10 position.
"He may feel he's not getting everything out of his talent playing that position [out wide].
"Also the fact he doesn't have a position. Where is Bruno playing? What is his position in that team? As long as [Christian] Eriksen is not there, he should be playing a central position."
SunSport revealed that Erik ten Hag was furious with his team after the game.
The Dutchman channelled his inner-Fergie – delivering the famous hairdryer treatment.

Source: Read Full Article