Luke Campbell warns Brit lightweight rivals not to write him off into retirement aged 33 after Ryan Garcia loss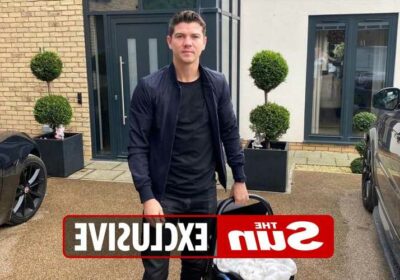 LUKE CAMPBELL has warned his British lightweight rivals not to write him off into retirement just yet.
Hull's 2012 Olympic hero lost his third world title crack in January after travelling to America to face red-hot prospect Ryan Garcia.
The 33-year-old has recovered at home with his family and opened his own gym, where he has bulked up with some new muscle.
But a look at the domestic boxing rankings – where Welshman Lee Selby and Belfast's James Tennyson have climbed above him – might have got his knuckles itching again.
The southpaw told SunSport: "I haven't mentioned anything about retirement, I have just been living family life and working on opening my new gym.
"A lot of other people have talked about it but I am not sure and I am staying in shape.
"I will have a look at the opportunities and see what opportunities are out.
"James Tennyson would not last six rounds with me and Lee Selby is a mover who would be a bit more tricky and awkward but I would take care of both of those guys – no problem.
"There isn't a lightweight in Britain who should be ranked ahead of me and I would still have no problem proving that."
Campbell's fellow Team GB star Anthony Ogogo landed a bronze at the home games but was forced to retire after just 12 pro fights following a tragic eye injury.
The Norfolk middleweight went through a series of heartbreaking operations to try to resurrect his career but has now found an incredible new calling back in a very different sort of ring.
The former middleweight has burst on to the professional wrestling scene as heavyweight powerhouse in AEW – the new brand taking on WWE.
And Campbell is hugely impressed by his old room-mate but fears he will always be too little to join him.
He said: "I have caught a bit of Anthony wrestling but I haven't spoken to him as he is over in America so much. It is certainly something different and I take my hat off to him.
"Injuries forced him out of the sport and job that he loved – before he could achieve most of the things he dreams of – and he has found a whole new calling and career.
"He did always like it though, I remember us being in camp he would always be watching it, staying up until 5am to watch the pay-per-views.
"I think he calls himself 'The Guv'nor' so he is clearly giving it a right crack and fair play to him.
"Not sure it'll be for me though, I've never seen many lightweight wrestling stars as skinny as me."
The R-word is always a hard one to put to boxers, very few people are around at the start to help them into the sport, so how dare anyone try to force them out of it?
But Campbell has learned enough about the sad roll call of brilliant champions and brave men who have ended up penniless or hopeless when the final bell tolls.
"Growing up in boxing I have always watched boxers struggle in retirement and always vowed that it would never be me," he said.
"I have learned from every mistake that sadly those before have made so, in a way, I have been planning my own exit strategy and retirement for the last 15 years.
FREE BETS: GET OVER £2,000 IN SIGN UP OFFERS HERE
"But I also know it is not as easy as that. Boxing is so strict and structured that stopping will cause a huge change and leave a huge hole in anyone's life.
"Most boxers' identity, my identity, is being a fighter, it has defined me. And leaving that will leave me asking 'who am I?' and that is the scary bit.
"That must be what a lot of fighters sadly struggle with and that is what I will be working against."
Luke Campbell is doing 18 rounds on May 10 against a host of sports stars and celebrities for CALM (Campaign Against Living Miserably) to raise awareness for the 18 people who tragically lose their lives to suicide each day in the UK.
Source: Read Full Article