Logan Paul's startling transformation from YouTuber joker to MMA star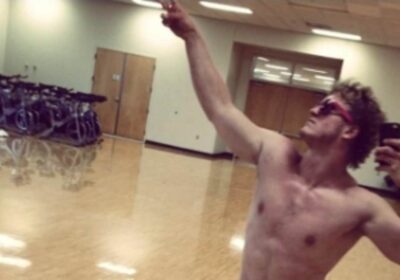 Logan Paul has remodelled himself from goofy YouTuber into somebody holding his own against boxing and MMA's biggest names… his body transformation has been ASTONISHING
Logan Paul started out trying to make people laugh on Vine and YouTube
Now, he is trying to make people feel pain with his MMA and boxing pursuits
His body transformation has been remarkable and he has trained with top stars 
YouTuber Logan Paul still faces ridicule for his quest to be taken seriously in the world of combat sports – but there is no denying that he has shown dedication.
The American made his WWE debut in 2021 and signed a new deal earlier this year, posing alongside Triple H with his new contract. 
He is fully immersed in the world of fighting and has pushed his body to its limits as a result.  
This summer, he was pictured hitting the gym with Israel Adesanya and featherweight champion Alexander Volkanovski.
Fans even speculated that he looked as if he weighed a whopping 230lbs in the photo.
Logan Paul was pictured hitting the gym with UFC middleweight champion Israel Adesanya and featherweight champion Alexander Volkanovski
He started out as a joker on Vine and YouTube but was determined to be taken seriously as a fighter
It's a long way from how he started out making comedic videos on Vine and YouTube, and if he did weigh 230lb, that would be around 40.5lbs heavier than he was when he fought Floyd Mayweather in an exhibition match in 2021. 
That night at the Hard Rock Stadium, Paul went the distance with the boxing legend and earned respect from the fighting community. 
Though a 44-year-old Mayweather bossed the fight from start to finish, Paul had a strong chin and finished the fight despite a gulf in class, waddling away from a reported £14million pay packet. 
He has not boxed since then, but is set for a return to the ring with Dillon Danis, Conor McGregor's training partner, next month for six rounds of cruiserweight action. 
Meanwhile, speaking about his long-held MMA motivations, he said: 'It's real. I've always been real about it. I want to make history by going to MMA and making it a massive event. No boxers go over to MMA. The MMA fighters go to boxing. I want to respect their sport. I grew up as an MMA fan.' 
He has taken part in MMA events and even has a contract with WWE, which he signed recently
He caused a major shock by going the full distance against boxing legend Floyd Mayweather 
Here, Paul is pictured holding WWE titan Seth Rollins during WrestleMania 39 back in April
In April, he called out Mike Tyson for an MMA fight, despite losing his only professional boxing bout to fellow YouTuber KSI. 
Did he really think he could take Tyson? 'I don't really care how big he is. If you have not wrestled or done any ground work, I don't care how big you are, you better land the first two punches that you throw and they better knock me out.
'Otherwise I'm taking you to the ground, I'm taking your back and I'm choking you out.' 
That's the world Paul has immersed himself in: one of bravado, bickering, and continually trying to out-do opponents. No wonder he has thrown himself in at the deep end physically to give himself every advantage. 
It's a far cry from the rather goofy character he started out as – he has taken on a transformation in both physicality and persona.  
Source: Read Full Article