Lionel Messi hits the town as he enjoys a Maluma concert in Miami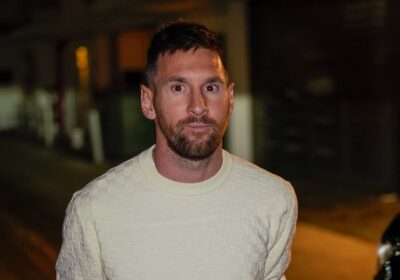 Lionel Messi hits the town to attend a Maluma concert in Miami after winning his eighth Ballon d'Or earlier this week… as Inter Miami forward enjoys his early offseason
Lionel Messi recently wrapped up his first season with MLS' Inter Miami
And he let his hair down on Saturday night as he went to a concert
Kai Havertz is a broken man at Arsenal: Listen to the debate on It's All Kicking Off
Lionel Messi capped off a big week with a Saturday night out, as he was seen attending Maluma's show at the Kaseya Center in Miami.
On Monday, the Argentine beat out the likes of Erling Haaland and Kylian Mbappe to win a staggering eighth Ballon d'Or.
And he celebrated in style over the weekend by taking in some music from the 'Chantaje' singer.
In a video from the concert, Messi could be seen tapping his hand along to Maluma's performance before waving to some adulating fans nearby.
Lionel Messi flashed a thumbs-up at the camera as he was spotted on Saturday night
He appeared to be in a private section for the concert.
At a different point in the night, he was photographed outside and flashed a thumbs up to the camera.
The forward donned a beige knit sweater, gray pants and a gold watch for the occasion.
Messi was back in South Florida after traveling to Paris for the Ballon d'Or ceremony, which came after the end of MLS' season for Inter Miami.
The Herons did not make the postseason and played their last regular season game on October 21. 
David Beckham presented Lionel Messi with his eighth Ballon d'Or trophy on Monday
The four-time Champions League winner arrived at the event alongside his family
He was joined at the Ballon d'Or ceremony by his wife, Antonella Roccuzzo, and their three sons, Mateo, Thiago and Ciro.
He helped lead Argentina to a third World Cup triumph last year, as he scored seven goals – including two in the final.
He also scored 32 goals in 55 games across all competitions for PSG before moving to Inter Miami.
Despite leading the club to its first trophy in the Leagues Cup, he made just six league appearances due to injury and international duty with Argentina.
Source: Read Full Article