Kildare without Daniel Flynn for 2019
Cian O'Neill has named his Kildare football squad ahead of 2019, with Daniel Flynn and Niall Kelly the standout absentees.
However, it is believed that Kelly could return in the coming months when he has completed his travels.
Flynn's absence comes as a major blow to the Lilywhites, who are looking to build on what was a positive 2018 campaign.
The former Australian Rules player was one of three All-Star nominations for the Leinster side this year, and Kildare will need to fill the void in the forwards as they prepare for life in Division 2 in January.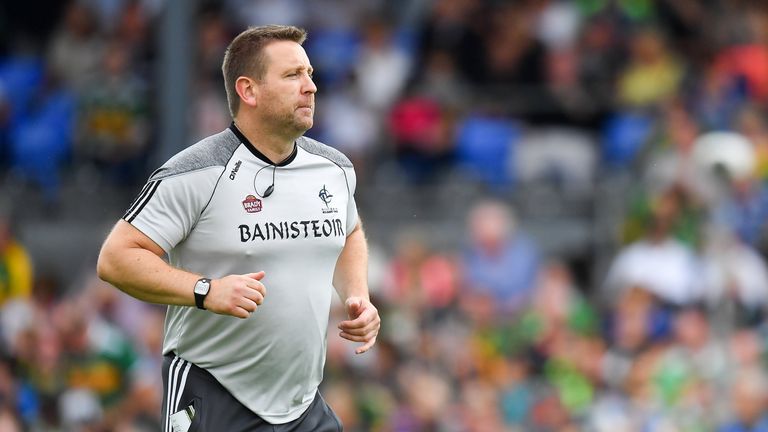 Meanwhile, O'Neill has called upon eight members of last year's U20 All-Ireland championship winning team to join Aaron O'Neill, Jimmy Hyland and Mark Dempsey.
Kildare panel for the O'Byrne Cup: Mark Donnellan, Aaron O'Neill, Peter Kelly, David Hyland, Mick O'Grady, Mark Hyland, Mark Dempsey, Mark Barrett, DJ Earley, John O'Toole, Eoin Doyle, Keith Cribbin, Cian O'Donoghue, Kevin Flynn, James Murray, Conor Hartley, David Malone, Jason Gibbons, Kevin Feely, Tommy Moolick, Fionn Dowling, Paschal Connell, Fergal Conway, Aaron Masterson, David Slattery, Paul Cribbin, Mark Sherry, Paddy Brophy, Eoghan O'Flaherty, Adam Tyrrell, Tony Archbold, Neil Flynn, Chris Healy, Jimmy Hyland, Padraig Nash, Ben McCormack, Brian McLaughlin, Padraig Fogarty, Kevin O'Callaghan.
Make sure to keep up with all the latest GAA news and analysis via skysports.com, the Sky Sports mobile app and @SkySportsGAA on Twitter.
The Sky Sports mobile app will keep you up to date with the latest news from Gaelic games – here's how to receive the alerts you want.
Source: Read Full Article