Jon Rahm says it is 'mainly my fault' that he cannot catch Rory McIlroy in Dubai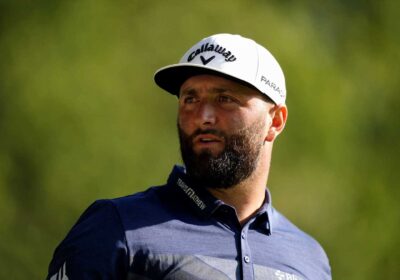 Sign up to our free sport newsletter for all the latest news on everything from cycling to boxing
Sign up to our free sport email for all the latest news
Thanks for signing up to the
Sport email
Masters champion Jon Rahm admits he only has himself to blame for not being able to deny Rory McIlroy a fifth Race to Dubai title in the final event of the season.
McIlroy was assured of topping the money list when Adrian Meronk and Ryan Fox failed to earn enough points in last week's Nedbank Golf Challenge to get within 2,000 points of the world number two.
Only 2,000 points are on offer for the winner of the season-ending DP World Tour Championship and McIlroy was already 2,082.53 ahead of nearest rival Rahm, who chose not to compete in Sun City.
Rahm has previously contested just two regular DP World Tour events in 2023, the Ryder Cup counts as a third and this week's title defence in Dubai therefore fulfils the minimum requirements for DP World Tour membership.
Rahm admitted it was disappointing for fans that the Race to Dubai had already been settled, but admitted: "At the same time, though, it's mainly my fault.
"He (McIlroy) played great golf. I could have tried to go to Nedbank and get a few more points to give myself a chance this week. He did what he needed to do and I didn't."
Despite not having the chance to win the Race to Dubai for a second time, Rahm still prefers the DP World Tour's format to that of the PGA Tour, which employs a controversial handicap system in the FedEx Cup.
The player who earns the most points throughout the year begins the season-ending Tour Championship on 10 under par, the second-highest on eight under and so on, on a sliding scale down to the players in 26th to 30th who start on level par.
"I'm not a big fan of the FedEx Cup finals. I've said that many times," Rahm added. "It's the only sport when you get to the finals, you give somebody an advantage.
"You don't see whoever had a better record in the Champions League finals start with a 1-0 goal advantage, that just doesn't happen.
"I would be a bigger fan of somehow point restructuring to where if you win the tournament, like it used to be with the top five going to East Lake, if they won (the Tour Championship) they would win the FedEx Cup.
"At the same time, if you play as good as Rory has and you've built up the lead, you've earned it. Like I said earlier, I had the option of playing more events, tournaments and trying to earn more points. I just didn't.
"I think this format is more fair to the better player, whoever played better throughout the year. I think the one that they have in the FedEx Cup right now would be probably more exciting for the viewers. Obviously it all depends what you prefer."
I had the option of playing more events, tournaments and trying to earn more points. I just didn't
Rahm has a remarkable record in the DP World Tour Championship, winning it on his debut in 2017 and again in 2019 and 2022, with his worst finish in four appearances being a tie for fourth in 2018.
"It's something I look forward to and to me it's a great way to end the year," Rahm said. "One last competition before we get to the holiday season and kind of get our mind off golf for a little bit. Hopefully I can win it one more time.
"I couldn't really pinpoint one thing why I've had success here. I'm sure the number people can tell you why statistically I'm better, but I think I just happened to play really good on the weeks that I'm here."
Source: Read Full Article