Jets expected to sign WR Randall Cobb to add another former Aaron Rodgers teammate to roster: report – The Denver Post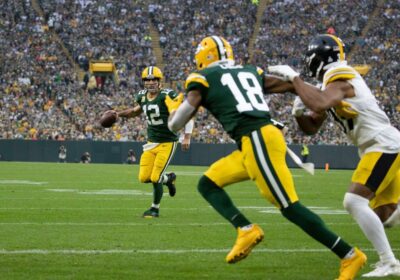 Gang Green is set to make another move to bring in one of Aaron Rodgers' old buddies.
The Jets are expected to sign veteran wide receive Randall Cobb to a one-year contract, according to ESPN. The deal is not complete, but it is expected to be finalized soon.
Once the Cobb signing is complete, he will be the fourth former Packers player to sign with the Jets this offseason, joining wide receiver Allen Lazard, quarterback Tim Boyle and tackle Billy Turner. Gang Green also added offensive coordinator Nathaniel Hackett, the Packers offensive coordinator from 2019 to 2021.
Adding Cobb isn't a surprise as the Jets were looking to add another wide receiver. Also, Cobb and Rodgers have a close relationship. He was one of the names the 39-year-old superstar quarterback recommended to the Jets when he met with them in California in March before he was traded to the team last week. Odell Beckham Jr. was also on the list, but he signed a one-year deal with the Ravens as he will receive $15 million guaranteed.
Cobb will join a Jets receiver corps that features Lazard, NFL Offensive Rookie of the Year Garrett Wilson, Corey Davis, Denzel Mims and Mecole Hardman.
Cobb, 32, hasn't caught more than 40 passes in a season since 2019. However, he will give Rodgers a familiar face in the Jets offense, one that Cobb is familiar with playing with Rodgers and Hackett previously. Cobb will also likely be used as a slot receiver along with Hardman.
During his 12-year career, Cobb has 625 receptions for 7,585 yards and 53 touchdowns. Last season for the Packers, Cobb caught 34 passes for 417 yards and one TD in 13 games.
He ranks fifth all-time in Packers history with 532 receptions and 47 touchdowns. Cobb played 10 seasons with the team. He made brief stops with the Cowboys (2019) and Texans (2020) before returning to the Packers for the 2021-22 seasons.
()
Source: Read Full Article