Jake Paul refuses to apologise for leaking birth of Tommy Fury and Molly-Mae's baby and says they should PAY him | The Sun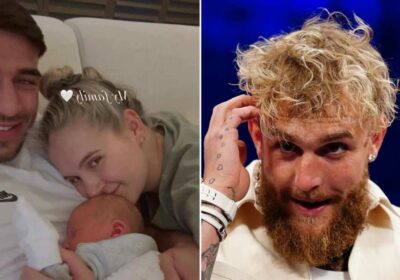 JAKE PAUL refused to apologise for leaking the birth of Tommy Fury and Molly-Mae's baby – and said they should instead PAY him.
The celebrity boxing pair are finally set to fight, on February 26 in Saudi Arabia at the third time of asking.
Fury, 23, was forced to pull out in December 2021 due to a rib injury and then last August amid US visa issues.
So after agreeing to reschedule on neutral ground, Paul, 26, claimed rival was left with "no excuses".
But he also used the social media dig to bring up the birth of Fury and Molle-Mae's baby daughter, which at the time had not been announced.
Paul posted: "After multiple failed attempts to get Tommy Fury in the ring, the moment of truth has finally arrived.
READ MORE IN boxing
Betfair bonus: Get £30 in free bets to spend on horse racing today – 18+ T&Cs apply
Watch Jake Paul hit YouTuber so hard he SOILS HIMSELF after losing bet
"Fumbles has no excuses now. Baby is born. Money is massive. Immigration is not an issue."
Paul made the claim on January 27, and Molly-Mae revealed baby Bambi was born four days prior.
The YouTuber-turned prizefighter hosted a Q&A on Instagram and was asked if he should apologie for leaking the birth.
Paul responded: "No she should pay me for giving that baby more clout."
Most read in Boxing
Tommy Fury spars 'one of the best bare-knuckle boxers' ahead of Jake Paul fight
Kell Brook's controversies from snorting white powder to racist slur claims
Tommy Fury moves out of home into 'hellhole' after Molly-Mae gives birth
Ex boxing champ to stand trial accused of violent robbery & string of offences