In UConn, the 'New Big East' Has Welcomed an Old Power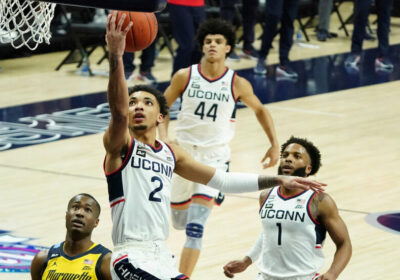 When R.J. Cole transferred from Howard to UConn after his sophomore season, he sought to test himself against better competition, move closer to his family and compete on a bigger stage in the Big East Conference.
The chance to play in the Big East tournament at Madison Square Garden is a big opportunity for any men's basketball player in the league.
"Anybody who's played basketball has dreamed about playing in the Garden," Robert Cole, R.J.'s father, said in a phone interview.
While R.J. Cole, a 6-foot-1 redshirt junior point guard from Union, N.J., will be making his tournament debut, his school will be making its return. The Huskies will play in their first Big East tournament since 2012 after the school rejoined the conference following seven years in the American Athletic Conference. The Huskies did not play in the 2013 Big East tournament because they were ineligible for postseason play that year.
UConn has a rich tradition in both men's and women's basketball. The women's team — which won its postseason tournament on Monday — has won 11 national championships, while the men's team has won the 1999 title and three more since, the most in that span.
The men's program has completed a three-year turnaround under Coach Dan Hurley, whose contract was extended last week through the 2026-27 season. The Huskies are the No. 3 seed in the conference tournament and projected to make their first N.C.A.A. tournament since the 2015-16 season. Creighton is the No. 2 seed and was also projected to make the N.C.A.A. tournament. Seton Hall and Xavier, which lost in the first round to Butler on Wednesday, were on the bubble entering this all-important week.
The league typically does not produce one-and-done talent, but this year it has several stars, including Villanova sophomore forward Jeremiah Robinson-Earl, Seton Hall senior forward Sandro Mamukelashvili and UConn sophomore guard James Bouknight, a projected N.B.A. lottery pick.
When UConn played its last Big East tournament nine years ago, there were 16 basketball schools, five more than it has now. In 2013, the old Big East split apart with the football schools leaving for Power 5 leagues — Syracuse and Louisville are now in the Atlantic Coast Conference while West Virginia is in the Big 12. The "new Big East" regrouped by adding Butler, Creighton and Xavier before the 2013-14 season, and its coaches take pride in it being a basketball-centric league that can compete with conferences that also feature football.
Hurley, who played for Seton Hall in the mid 1990s, has joked that he played in the "real Big East" — before the current incarnation.
Both new and old the conference has fared well, with its teams winning six national championships since 2000, second only to the A.C.C.'s eight.
Villanova has won two of the last four national titles and was considered a second-tier favorite to contend for another this year before senior point guard Collin Gillespie suffered a season-ending knee injury last week. Still, Villanova won its seventh Big East regular-season title in the reorganized conference and is the No. 1 seed this week.
Because of the pandemic, Huskies fans won't be able to pack the Garden and raucously support their team the way they did when UConn was originally in the Big East from 1979-2013. Under state health regulations, fans weren't allowed to attend home games this season, either.
While some conferences are allowing a limited number of fans at their postseason tournaments, the Big East has not sold tickets to the public. The league is giving a limited number of tickets to each team to permit families and guests of student-athletes, coaches and team staff members to attend games. The Big East expects about 1,000 total spectators each day.
Robert Cole and his wife, Javicia, plan to attend UConn's first game Thursday night against DePaul.
"It's always an added incentive to have the support from your UConn base, but the beauty of this is having the opportunity as a parent to go watch him play through this unbelievable pandemic that has taken a lot of the joy away from watching him play at the highest level," Robert Cole said.
The Big East received blowback last year when it elected to proceed its conference tournament into a second day on March 12 despite the pandemic's impact reaching North America and other sports shutting down. No other major conference played games that day.
After holding two games on March 11, the conference decided to have St. John's and Creighton play the next day — with 200 fans per school. At halftime, the game was called and the tournament canceled.
Big East Commissioner Val Ackerman later called it a "a terrible day for us." She said the Big East consulted the N.C.A.A. and city health officials in New York before starting the game.
"We made the best call we could've made," she said.
Even after Gov. Andrew M. Cuomo of New York announced last month that limited attendance would be allowed at sporting events in the state, the Big East didn't feel comfortable allowing the public to buy tickets.
"As New York sporting events start to reopen, we believed it was important to offer access to one of the most prominent events in college sports to those closest to the participants, while striving to protect the health and safety of all involved," Ackerman said in a statement.
Though they won't be part of a throng of UConn fans at the Garden this week, the Cole family will be there, with more room to stretch out and enjoy the game.
"Just being in the arena itself is good enough for me," Robert Cole said.
Source: Read Full Article