I'm a former Liverpool centre-back but now I'm banging in goals for fun including amazing free-kicks aged 38 as a No10 | The Sun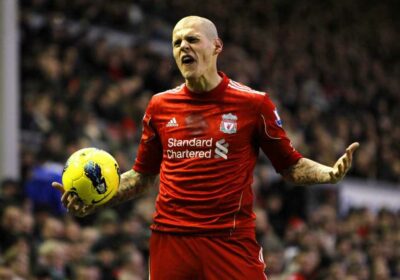 FORMER Liverpool defender Martin Skrtel has revealed that he is playing "like Lionel Messi" for his new club in Slovakia.
The 38-year-old officially retired from professional football last May due to a persistent back problem.
However, he did not hang up his boots completely.
In August he joined FK Hajskala Raztocno – an amateur team competing in the eighth tier of Slovakian football.
And Skrtel, who scored an incredible free kick which went viral earlier this month, recently revealed that he has taken up a completely new role at the club.
In an interview with The Athletic, he said: "I actually play as the No 10.
Read More on Football
Most controversial club punishments ever, as Man City face points deduction
Bet £5 on Euro 2024 qualifiers and get £20 in free bets with Ladbrokes
"When I went along for the first game, I said I'd go in my normal position at centre-back but after 10 minutes, I said to the coach, 'Listen, how about I play as the No 6?'.
"After another 10 minutes, I said, 'How about I play further up?'.
"I played a few games as a striker and got a few goals. Now I've dropped a bit little deeper.
"I basically get to run where I want. A free role —  a bit like Lionel Messi!"
Most read in Football
Spurs manager Conte OUT a week after astonishing rant about struggling team
Jack Grealish reveals his strange and pricey food habit after a game
Man Utd's Brandon Williams 'inhales hippy crack' in passenger seat of Merc
Man City legend, 49, looks completely unrecognisable as he returns for World XI
FREE BETS AND SIGN UP DEALS – BEST NEW CUSTOMER OFFERS
Skrtel also revealed that he can't even take part in training anymore due to his back issues.
He added: "I can't train, because of my back. I just go along each Sunday and play the game. For two or three days after, I can't do any kind of outdoor activity because I'm so f***ed.
"I've got nine or 10 goals this season. We're second in the table, but I can't say we want promotion. We've got quite an old team.
"Our goalkeeper, I think, is 56, and we have a few other players in their mid-40s. The most important thing is to have fun. We don't push it.
"It's a different kind of experience for me. I want to enjoy still being able to play a bit for as long as possible.
"It's not easy to just say, 'Right, I'm finished. I won't kick a ball anymore'. As long as I enjoy it, I'll keep going."
Skrtel spent eight years with Liverpool before joining Fenerbahce in 2016.
During his time at Anfield he made 320 appearances.
Source: Read Full Article