I thought I was signing for Arsenal or Tottenham when I heard transfer offer had been accepted – but I ended up at Luton | The Sun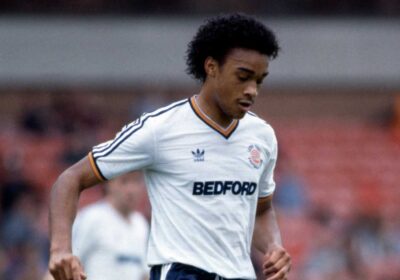 LUTON legend Paul Elliott thought he was joining Arsenal or Tottenham before moving to Kenilworth Road.
Elliott stood out in the 1980s playing for Charlton and turned a lot of heads during a time that saw the Addicks dealing with severe financial difficulties.
That meant the club had to sell some of their best and most valuable players in 1983.
Among them was their star centre-back, who was linked with a move to the Gunners at the time.
And the then 19-year-old was informed by Charlton manager Lennie Lawrence that a deal had been struck with a club from the First Division.
Lawrence drove the defender to meet his new employers and he thought it would be Arsenal due to the intense speculation.
Read More on Football
GUNNER BE GOOD
How to join The Sun's brilliant new Arsenal WhatsApp channel in 3 easy steps
GUNNER GO
I spent 11 years at Arsenal but I found out I was for sale watching TV on holiday
The youngster also reckoned he could be moving to Tottenham as his manager drove towards north London.
But, upon their arrival, Lawrence finally spilled the beans and revealed he will be playing for Luton.
The now 59-year-old wasn't disappointed as a discussion with then Hatters boss David Pleat convinced him this was the right move.
Pleat really believed in him and promised he would be in his starting line-up despite his young age.
Most read in Football
ACE'S AGONY
Army hunt for Liverpool star's kidnapped dad after 'two killed in shoot-out'
ACE'S AGONY
Liverpool star's parents are 'kidnapped by two men who ambushed their van'
NOT WORTH IT
Gareth Ainsworth SACKED as QPR manager with Hoops six points from safety
DEFOE DOES DOUBLE
Defoe seen with woman at hotel days after taking girlfriend to awards do
Elliott told Luton Today: "The club hit financial problems and went into receivership.
"They sold Paul Walsh the year before and I remember there were lots of rumours that Arsenal were very interested and had made a bid. I remember reading the Evening Standard that Arsenal were going to make an offer for Elliott, they really want Elliott.
"When the deal was done, I remember the day I was leaving, Lennie said to me, 'Big man, go home and put on your best suit, we're going to sell you. Meet me back at the Valley, I'm going to take you to meet the manager.'
"He didn't tell me who the manager was, so we drove up and he's driving north London, A6, towards the Cockfosters Hotel and I was thinking it's either got to [be] Arsenal or Tottenham. Then he's pulled up at the West Lodge Hotel and I was thinking, it's got to be Arsenal!
FREE BETS – BEST BETTING OFFERS AND BONUSES NEW CUSTOMERS
"He turned round and said, 'There's a great manager inside, a really progressive club,' and I'm just thinking, just tell me, and he said, 'It's David Pleat from Luton Town.'
"I thought, oh, right, okay, I went into the hotel, and let's just say I had 15 minutes with David Pleat and I knew that Luton was going to be a great move for me.
"He said, 'Listen Paul, you're top class, you're an outstanding youngster. You're 18 years of age, played over 80 games in the first team, you've got a lot of game time, you're an outstanding prospect, we've just got promoted from the Second Division, you're going straight into the first team, you're good enough to play in the First Division, you're going to be a great player for Luton Town and for me, do you want to come?'
"I remember saying, 'Of course I want to come,' and it ended up being a fabulous move. David is a great man, a great friend, we've always been close, even after my time at Luton."
Elliott became a Luton legend with two goals in 39 appearances across a two-year stint before moving to Aston Villa and later Pisa, Celtic and Chelsea.
Source: Read Full Article