Hilarious moment Man Utd legend Schmeichel flees live TV interview with cameraman forced to take cover | The Sun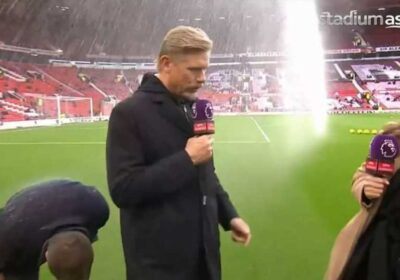 PETER SCHMEICHEL was forced to take over during his punditry duties at the weekend after nearly being soaked by a sprinkler.
The goalkeeping icon was part of Malaysian TV channel Stadium Astro's coverage of the Manchester derby on Sunday.
Former Manchester United and City stopper Schmeichel took the time to pay tribute to the late Sir Bobby Charlton before the match, although he was forced to cut it short after one of the pitch's sprinklers began to shoot out water.
The Dane said of Charlton: "He took part in the whole rebuild of Manchester United, with Jimmy Murphy and of course Sir Matt [Busby] who survived as well.
"And then only eight years later he won the World Cup, he was the best player in the world at the time.
As the sprinklers rotated to the punditry team's position, he said: "They win the championship here in England the next year.
READ MORE IN FOOTBALL
LEED THE WAY
I played one Prem game for Man Utd alongside icons – now I'm unemployed at 35
ALL UNITED
How to join The Sun's brilliant new Man Utd WhatsApp channel in 3 easy steps
"And now we're getting wet."
Presenter Michelle Lee quickly chimed in: "Ooo we are getting rained on a little bit."
Schmeichel and Lee managed to avoid most of the water, although that wasn't the case for former Leeds man Danny Mills.
Former Red Devil Tom Cleverley showed great agility to avoid serious spraying that would have almost certainly resulted in an emergency wardrobe change.
Most read in Football
BECKS BLAST
Rebecca Loos tells Beckham to 'be honest' & blasts Netflix doc as 'rehearsed'
DRINK UP
Drinkwater RETIRES at 33 after 'being in limbo too long' following Chelsea release
HE'S DONE FER
Furious Keane tells Ten Hag to STRIP Fernandes of captaincy after City loss
RIP LEGEND
Villa lead tributes as club record appearance maker Charlie Aitken dies aged 81
FREE BETS – BEST BETTING OFFERS AND BONUSES NEW CUSTOMERS
Ex-United stars Schmeichel and Cleverly would have no doubt been disappointed with their old side's display against their local rivals.
Prem kings City ran riot at Old Trafford, running out 3-0 winners thanks to a brace from Erling Haaland and a tap-in from Phil Foden.
Defeat to Pep Guardiola's troops was United's FIFTH league loss of the season, which has heaped even more pressure on a defiant Erik ten Hag.
He said: "The three games before we won, and the spirit is very good, so I think we are on the way up.
"The start was difficult but we are on the way up.
"I am sure when we have some injured players coming back then our side will be stronger.
"We have to be patient."
Source: Read Full Article