'He'll look at it and shake his head' – Jamie O'Hara identifies huge problem if Tottenham bring back Pochettino | The Sun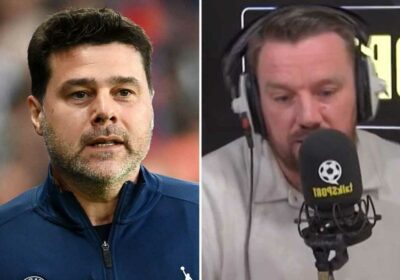 JAMIE O'HARA has spotted a problem for Tottenham if Mauricio Pochettino returns to the club.
Speculation is raging over the next Spurs manager after the North London side's limp Champions League exit to AC Milan earlier this week.
It appeared to be the final straw for many Spurs fans, with O'Hara leading the charge for a change in the dugout.
With Antonio Conte's contract up in the summer, attention has turned to who might replace him.
Pochettino appears to be among the frontrunners with many fans keen on a return of the Argentine after his last spell.
He took over the club in 2014 and took them to the 2019 Champions League final before being sacked later that year.
READ MORE ON FOOTBALL
I'm Europe's top scorer – I've got more goals than Haaland & Rashford combined
Bet £5 on football and get £20 in free bets with Ladbrokes
But former Spurs player O'Hara has identified a potential issue if Pochettino returns and sees how little the club has changed since he departed.
O'Hara told Grosvenor Sport: "The problem is, if Mauricio Pochettino comes back, the last time he managed Spurs was four years ago and he'd have to come back to Eric Dier and Ben Davies, they are still there!
"He's going to look at it and shake his head. Something has to change."
"There is no point in bringing him back if you are not going to change the group of players he has got. He has to be backed by Daniel Levy.
Most read in Sport
Kyle Walker's wife Annie furious with Becky Vardy after jibe over flashing shame
Man Utd star Antony's £337,000 Lamborghini Aventador taken away in back of truck
Becky Vardy slams Kyle Walker's wife for 'playing victim' & being a 'doormat'
Man Utd line up Mason Mount transfer as Jude Bellingham alternative
HOW TO GET FREE BETS ON FOOTBALL
"If he brings Pochettino in and doesn't back him with exactly what he wants, it isn't going to be any better, and it won't be fans turning on the manager any more, it will be fans turning on Levy."
TalkSPORT presenter O'Hara also made clear that if Pochettino does return, it should be immediately and not once Conte leaves at the end of his contract.
He adds: "Conte has got to go. Don't bother waiting until the end of the season, he doesn't want to be there. It won't cost you an arm and a leg, they've only got to pay him four months of his contract.
"Pay it, get rid and get Mauricio Pochettino in now so they can see what they need."
Former Chelsea manager Thomas Tuchel has also been linked to the Tottenham job in recent days.
But SunSport has exclusively revealed that the German has reservations about taking the job.
Spurs have drawn up a four-man shortlist for their next manager but neither Pochettino nor Tuchel are believed to be on it.
Source: Read Full Article