He Saw 'Greatness' in the Lakers When They Were at Their Worst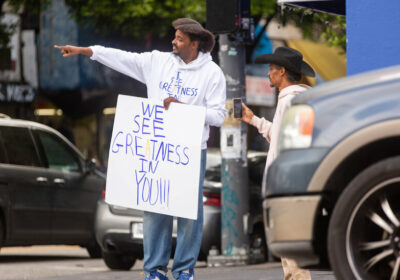 You'd have to look closely or you'd miss the homemade sign nailed to a telephone pole outside the Lakers' practice facility in El Segundo, Calif.
It's right outside the entrance to the players' parking lot, but many of them miss its blue-and-yellow words as they drive in.
"I SEE GREATNESS IN YOU," it says.
The sign gives no indication of who "I" might be, who "you" are or what kind of greatness you possess. But in a small yet meaningful way, the message has inspired Lakers Coach Darvin Ham as he leads the team in their Western Conference semifinal series against the Golden State Warriors.
Ham has even forged an unlikely friendship with the man who posted the sign: Terrance Burney, a basketball-loving airline employee whose home is filled with inspirational signs. Burney's unceasing positivity has charmed prominent athletes and entertainers.
"It's not just a slogan he's trying to get picked up by some corporate sponsor or something," Ham said. "It's something he actually believes in. I love it."
Neither rich nor widely known, Burney, 40, works for Delta Air Lines and lives in Los Angeles with his German shepherd, Ziva, and his girlfriend, Crystal Lewis.
He stands outside of Crypto.com Arena in downtown Los Angeles after most Lakers home games holding a handmade sign bearing his message, hoping that whoever sees it feels happier, lighter or maybe even newly confident.
"When I tell people, 'I see greatness in you,' it means, 'I see God in you,'" Burney said. "So this is something that God told me to do, you know?"
Burney first held up a similar sign 15 years ago on a street corner in Highland Park, Mich., a small city surrounded by his hometown, Detroit. He said prayer led him to do it.
In the years since, he has taken his sign all over the world, flying for free as an airline employee. He has shared his message on street corners and during protest marches, in small gyms and outside professional arenas. He has shouted it as a contestant on "The Price Is Right."
"He's like the Forrest Gump 2.0," said Morris Peterson, a former N.B.A. player who grew close with Burney after a charity event Peterson hosted with the rapper Snoop Dogg to support people affected by the water crisis in Flint, Mich. "He's just everywhere. He's everywhere. You might see him in Paris with the sign."
Burney played basketball for one year at Prairie View A&M University, and in the years after he'd often get asked to participate in pickup games and workouts. In 2007, he was preparing for a workout with the Fort Wayne Mad Ants, then the G League affiliate of the Indiana Pacers and the Detroit Pistons, when he spotted Rasheed Wallace, then playing for the Pistons, sitting at the bar of a T.G.I. Friday's.
Burney said he hoped his signs gave people confidence.Credit…Allison Zaucha for The New York Times

"Excuse me, sir, your turnaround jump shot is the best in the history of a turnaround jump shot," Burney recalled telling Wallace. "How do you get it over people who are taller than you?"

Wallace got up from his seat and demonstrated his method. The two of them drank a few beers together and a friendship began.

Wallace and Ham, the Lakers' coach, had become close over the years through N.B.A. circles. Early this season, Wallace planned to visit Ham's home. He asked if Burney could join.

The Lakers had started the season 2-10. Ham was struggling to make the most of the team's two best players, LeBron James and Anthony Davis. Not many people would have used "greatness" to describe anything happening with the Lakers. But Burney did.

"He said: 'Don't worry, coach. You're going to be great. We're going to be great. I see greatness in you,'" Ham said.

Ham trusted his read on Burney, so they stayed in touch. Burney sent text messages to Ham to inspire him. The Lakers' fortunes began to change, which likely had more to do with their dramatic makeover at the trade deadline than with Burney's sign. But he believes something larger was happening.

Before Game 4 of the Lakers' first-round playoff series against the Memphis Grizzlies, Burney sent a text to Ham that read: "Your PEACE gives PEACE to others!! I SEE GREATNESS IN YOU!!"

The Lakers were 6 points greater than the Grizzlies that day.

"Everyone wants to be thought of in a positive light and have — not just in basketball, N.B.A. basketball, in life in general — you need good vibes, good energy, people that believe in you," Ham said. "And he represents that."

The sign outside the Lakers' practice facility has been there for weeks. Davis saw it for the first time on May 1, just before the Lakers left Los Angeles for their series against Golden State in San Francisco.

He assumed a fan had left it there and gave it little thought.

The next day, Davis scored 30 points with 23 rebounds, joining only four other big men in Lakers history with at least 30 points and 20 rebounds in a playoff game. His performance helped the Lakers beat the Warriors in Game 1 of their series.

"Sooooo he saw the Sign before he had a RECORD setting win??" Burney said in a text message.

He could not be convinced that it was a coincidence.

Source: Read Full Article