Great entertainment or overrated nonsense? – the future of crossover boxing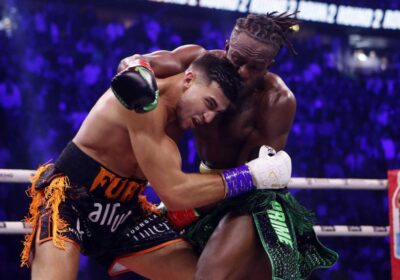 Sign up to our free sport newsletter for all the latest news on everything from cycling to boxing
Sign up to our free sport email for all the latest news
Thanks for signing up to the
Sport email
Tommy Fury laboured to a points victory over YouTuber-turned-boxer KSI in a fight that promised much but delivered little at a packed out AO Arena in Manchester at the weekend.
Here, we look at whether crossover events are on the way up or the way down.
What happened?
Fury, the younger half-brother of WBC heavyweight champion Tyson Fury who found fame in his own right on Love Island, took on YouTube star and entrepreneur KSI over six rounds in the headline act. But the card was flush with social media stars; Alex Wassabi boasts 3.3million Instagram followers and was involved in the first fight of the night, a peculiar tag-team event which looked like something from WWE.
Was it successful?
The profiles of the fighters on the bill meant the night was a sellout and the upshot was nearly a full house for the first bell – which is unheard of on more established platforms. The crowd especially lapped up the tag-team element with decibels reaching fever pitch from the off while broadcaster DAZN was hopeful of exceeding one million buys on pay-per-view, netting bumper payouts for everyone involved.
What's the problem, then?
None of the fighters have much of a boxing background – and it showed. Even Fury, whose family name is steeped in boxing, struggled to prove he is a cut above the rest in a main event where the protagonists were criticised for repeated clinching in an ugly bout. For all the hype, much of it unseemly, leading up to the event, there was nothing on show to suggest punters got anything approaching value for money.
Why are people paying to watch raw novices fight?
KSI's Misfits promotion is viewed with excitement by those witnessing a younger audience being drawn to the sport because of the drama being served up. Misfits is sanctioned by the Professional Boxing Association instead of the British Boxing Board of Control, which would take a dim view of the more outlandish antics of last week. Indeed, Dillon Danis taunting Logan Paul about his fiancee online was more obnoxious than provocative and escalated the bad blood between the pair to the point where their co-main event ended in farce. A mass melee with security and a number of both teams' entourage stormed the ring as Danis on more than one occasion bizarrely tried to show off his mixed martial arts skills.
Are there any more Misfits events in future?
The show at the weekend was an unquestionable peak for the organisation and there were plenty of positives although hopefully organisers have learnt from the Paul-Danis fiasco. Impressionable young fans – who this sort of show attracts in their droves – should not view this behaviour as acceptable. Indeed, some of the conduct of both Fury and KSI was below par, with crude insults and profane-laden language aimed at each other throughout. There is already another Misfits show in the pipeline for next month although Fury has indicated he is finished with crossover boxing.
What will Fury do instead?
Fury, unlike his fellow fighters on Saturday, would regard himself as a professional boxer first and foremost. He has expressed a desire to follow in his sibling's footsteps and become a world champion. Still only 24, Fury has plenty of time on his side but a slim points win over KSI – in which the decision could have gone either way – does not augur especially well. If he is to realise his dream then Fury needs to get back to establishing himself in the professional ranks and fully commit to learning his trade.
::Presenting our list of UK betting sites.
Source: Read Full Article