'Good to be back': Lynch regains Hockeyroos place, Morgan misses out again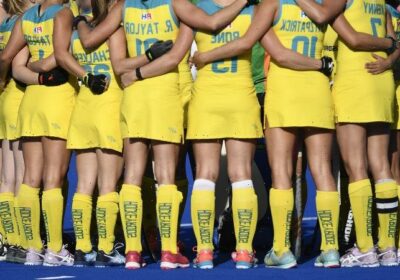 Rachael Lynch has won back her place in the Hockeyroos team but teammate Georgina Morgan has again been left out of the side's 27-player selection squad for the Tokyo Olympics.
Lynch and Morgan appealed being dropped from the squad and had their appeals upheld this year so were considered by new coach Katrina Powell and her team.
Lynch, a goal-keeper, hasn't commented on her selection but posted a message on Instagram on Thursday praising the new environment around the Hockeyroos after major changes were made to the coaching and support staff following a review of the program.
"I've spent the last four weeks training with the Roos and boy was it good to be back," Lynch wrote.
"I've seen things from a different perspective and feel proud of the direction the team is heading in. Laughter, unity, balance, pride and ownership.
"Thank you to those people from all around the world who have reached out to give their support."
Powell said Lynch earned her place with strong performances at a training camp in Darwin and a series of intra-squad games while 60-test veteran striker Savanah Fitzpatrick has also been recalled after being left out in 2020.
Powell said the squad would be cut to 16 players for the Olympics.
"The selection period for these athletes included the training camp in Darwin, a number of intra-squad matches and performance in our daily training environment," Powell said.
"Across the duration, Rachael (Lynch) has shown herself to be up to international standard and has been selected on her performance in this training block.
"Savannah (Fitzpatrick) played really well in the five intra-squad games and proved herself to be a constant goal-scoring threat in the penalty circle.
"She has shown improvement in key areas that she needed to work on. Coupled with her previous international experience, having Savannah in the group will be beneficial as we ramp up our preparations for Tokyo."
But Powell added Morgan, a defender, had missed the cut along with 10 of the 13 new players added for the camp.
"Sadly for Georgina, she has missed out on this occasion," Powell said.
The Hockeroos will play a four-match test series in New Zealand later this month.
Hockey Australia is scheduled to announce its men's and women's Olympics teams on June 14 in Perth.
Most Viewed in Sport
From our partners
Source: Read Full Article