From the Archives, 1962: Race record smashed in thrilling Sydney to Hobart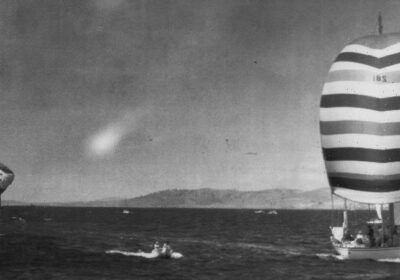 First published in The Age on December 31, 1962
Ondine Smashes Ocean Race Record by 14 hours
From Murray Davis, "The Age" yachting writer, who sailed in this year's Sydney-Hobart race.
The 57-ft. American yawl Ondine, owned and skippered by Sumner (Huey) Long, clipped 14 hours 44 minutes from the Sydney-Hobart yacht race record when she beat Astor across the finish line by 61 seconds yesterday.
American yawl Ondine, with her spinnaker full crosses the finishing line in Sydney-Hobart yacht race.
The two yachts provided Hobart with the most thrilling finish to any of the 18 races so far held.
With spinnakers and "everything else" up, the two big yachts moved up the Derwent on a brisk sea breeze.
Thousands of spectators watched from vantage points and crammed the area near the finish line at Constitution Dock.
Collapsed
Ondine steadily cut away the lead Astor had held until they were only about 100 yards apart.
Then, about a quarter of a mile from the finish, Astor's spinnaker collapsed and the American yacht held on to take the lead.
As she crossed the line, to the hoot of car horns and cheers, she broke out the Stars and Stripes.
Astor was followed 41 minutes 49 seconds later by the 57-ft. yawl Solo (Vic Meyer), which took the race on handicap, with a corrected time of 2 days, 12 hours, 45 mins, 14 sec.
Ondine took second place on handicap, with the Victorian sloop, Julie, skippered by Jock Sturrock, third.
"Remarkable"
Mr Long said he believed he had gained the edge on Astor by keeping Ondine away from the main current in the Derwent.
Trygve Halvorsen, veteran of 15 Sydney-Hobart races, described the weather conditions during the event as "remarkable" and like no other year.
"It was perfect for Ondine and two-masted yachts generally," he said.
Four yachts – Ondine, Astor, Solo and Winston Churchill – came in ahead of the previous race record time of three day 18 hours set by Kurrewa IV (Frank and John Livingston) in 1957.
Yachtsmen believe that because of the unusual conditions which gave the yachts such a fast passage Ondine's record will stand for many years to come.
The rest of the fleet has been arriving almost regularly in batches today after a harrowing night of calms and fog.
Some have spent as long as 10 hours becalmed near the Tasman Light in fog.
Doubled watches peered anxiously into the blackness as they listened to the sound of the ocean swells breaking on the coast they could not see.
Early today they sailed away from competitors only a few hundred yards away, or watched their rivals move off on some fickle breeze.
A light northerly gave the yachts a fast reach over the last ten miles to the crowds waiting to clap them as they passed under the bridge to Constitution Dock.
The last of the fleet is expected in early tomorrow.
Most Viewed in Sport
From our partners
Source: Read Full Article