Football world prays for Christian Eriksen after Denmark star given CPR on pitch after collapsing against Finland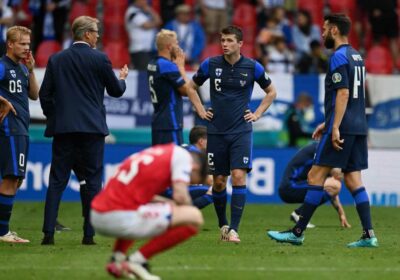 FOOTBALL united in sending its overwhelming support to Christian Eriksen after the midfielder collapsed at Euro 2020.
The Denmark star, 29, went to receive the ball from a throw-in during the first-half of Saturday's game against Finland when he collapsed.
Medics quickly rushed on to treat the player, who was seen receiving CPR before televisions cameras panned away.
The game was stopped and Eriksen taken off the pitch following lengthy treatment, leaving the entire sporting community and beyond praying for good news.
Uefa confirmed within the hour that the player had 'stabilised' and been transferred to hospital.
A huge number took to Twitter to send their best wishes to the Inter Milan playmaker.
Former club Tottenham, where he spent six-and-a-half seasons, posted: "All our thoughts are with Christian Eriksen and his family."
And Eriksen's first club, Ajax, wrote: "Our thoughts and prayers are with Christian."
The incident brought back memories of Fabrice Muamba collapsing and suffering a cardiac arrest in a 2012 FA Cup quarter-final.
The former Bolton midfielder, who has campaigned for better medical equipment to be available at football grounds, tweeted: "Please God."
A Uefa statement read: "Following the medical emergency involving Denmark's player Christian Eriksen, a crisis meeting has taken place with both teams and match officials and further information will be communicated at 19:45 CET.
"The player has been transferred to the hospital and has been stabilised."
The Danish national team account announced: "Christian Eriksen is awake for further examinations at Rigshospitalet."
Among the stars to send their best wishes were Marcus Rashford, Raheem Sterling, Jesse Lingard and clubs across the world.
Didier Drogba tweeted: "Fight for your life Eriksen we pray for you."
Robbie Fowler wrote: "Thoughts with Christian Eriksen and everyone who witnessed that…Absolutely awful and shocking to see. Praying he makes it."
Source: Read Full Article