Djokovic sends message to Tsitsipas ahead of Australian Open final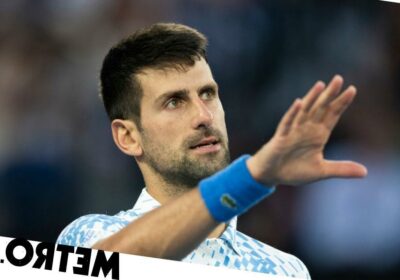 Novak Djokovic expects a 'mental, physical and emotional battle' against Australian Open final opponent Stefanos Tsitsipas.
Djokovic, who has won nine Australian Open titles, cruised into his 10th final as he swept aside Tommy Paul in a one-sided semi-final at the Rod Laver Arena.
The 35-year-old raced into a 5-1 lead in the first set before unseeded American Paul threatened to mount a comeback, winning four straight games.
But Djokovic went on to clinch the first set before restricting Paul to just three games in the next two sets, securing an emphatic 7-5 6-1 6-2 win.
Djokovic will face Tsitsipas in the 2023 Australian Open final on Sunday after the Greek star beat Karen Khachanov in four sets to reach his second Grand Slam final.
Tsitsipas took the first two sets of the 2021 French Open final against Djokovic before the Serb completed a brilliant comeback to win at Roland Garros for the second time.
'Obviously I won that match so my recollections are positive but I was 2-0 down and it was his first Grand Slam final,' Djokovic said after his semi-final victory in Melbourne.
'It was a mental, physical and emotional battle, as it always is against Stefanos. I respect him a lot.
'He's improved a lot over the years and I think he's one of the most interesting guys on the tour with his interests off the court.
'But it's all business on Sunday… let the better player win. Stefanos, see you in two days!'
The winner of the Australian Open final will also be crowned as the new world No. 1 and Djokovic insists that prospect will be in his mind during the Melbourne finale.
If Djokovic beats Tsitsipas, he will move level with long-time rival Rafael Nadal on 22 Grand Slam titles.
'Winning a Grand Slam and being number one in the word is probably the two biggest peaks you can climb as a professional player. Let's do it,' Djokovic said.
Djokovic also insisted he felt at '110 per cent' despite going into the first Grand Slam of the year under an injury cloud.
The Serb has had bandage around his leg throughout the tournament but believes his preparation in the off-season has stood him in good stead.
Asked about his energy levels ahead of the final, Djokovic added: 'It's great, and perfect and 100 per cent.
'Of course you are not as fresh as at the beginning of the tournament but we put in a lot of of hours in the off season. I know what's expected and I have been in so many positions in my career.'
After beating Paul, Djokovic now has the longest men's singles winning streak at the Australian Open, eclipsing Andre Agassi's previous record of 26 successive victories.
Tsitsipas, who is bidding to win his first Grand Slam title, has only lost three sets on his way to the Australian Open final.
For more stories like this, check our sport page.
Follow Metro Sport for the latest news onFacebook, Twitter and Instagram.
Source: Read Full Article