Danielle Lao Gets Back to Wimbledon, and Makes the Most of It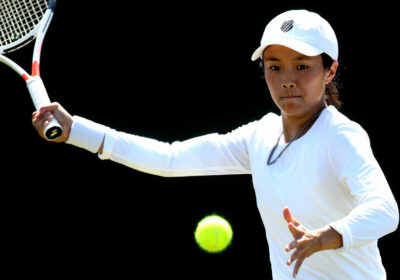 When Danielle Lao made her first visit to Wimbledon in 2019, she tried to describe it to her parents Bessie and Danny.
"I told them it's like Narnia, but for tennis," Lao said. "It almost seems not real. All the Slams are special and have their own style, but Wimbledon just has this mystique about it that just sets it apart."
In that 2019 visit, Lao was a spectator as she walked the grounds, taking photos with some of her former University of Southern California teammates. She had come within one match of qualifying for the singles draw, losing in the final round in three sets after winning 6-0 against Arina Rodionova of Australia.
"Arina made an adjustment to me that I could not adjust back to," Lao said. "It was like a slow death, and I couldn't do much about it, so that was tough for me."
For weeks it was difficult to accept, but Lao, an American small in stature and slight in build, is undeniably stout in spirit. Her nickname is "The Little Giant," which is also the name of her Twitter and Instagram accounts and her blog. And as Lao walked the well-tended grounds of the All England Club again on Saturday taking photos with her phone, she did so as a competitor.
This year, after continuing to push and aspire through the pandemic on a tight budget, she qualified for her first Wimbledon main draw at age 30. She is ranked just 238th in the world, still lives at home in Arcadia, Calif., with her parents to save money and still strings her own rackets when she is at home, on a machine she has had since she was 12.
But on Monday, she will face Katie Boulter of Britain on Court 17 in the first round of the oldest tennis tournament of them all.
"I've been dreaming about Wimbledon ever since I started playing," Lao said in a video interview on Saturday. "The first time I ever had any aspiration to be a professional tennis player, I was watching Pete Sampras win at Wimbledon. I think I was on vacation in Mexico, and it was the first time I'd ever seen a grown man cry. I had to have my parents kind of explain to me why he's crying."
Lao said she was 9 years old at the time. She would go on to play high school tennis and earn a scholarship to U.S.C. She never played No. 1 singles or No. 1 doubles for the Trojans in her four years, but was a two-time all-American and team captain.
"She's earned it the hard way," said West Nott, the former U.S.C. assistant coach who recruited her in high school. "I know a lot of people say they love the game, but I think she takes it to a whole other level. She is just trying to turn over every little rock to keep improving."
After briefly exploring work in finance after graduation, Lao decided to pursue a professional tennis career.
"I was looking for jobs, and it just didn't feel right," she said. "I still had a really deep love and connection to the game, so I thought I'd get on tour and get it out of my system a little bit."
She talked to her childhood coach, Kal Moranon, who agreed to forgo his usual fees and have her buy him lunch instead.
About eight years later, she is in Wimbledon at last, just like her childhood idol: Roger Federer.
"That is incredible," she said. "Seeing him on the grounds here, it's like, yeah, things are just right."
Lao said that growing up she never heard she was destined for Grand Slam tennis tournaments.
"I am 5-3, 115, 120 pounds," she said. "I never had anyone tell me you're the model and the perfect stature to be a professional tennis player. In fact, maybe the opposite. No one's ever told me, 'You will never make it on tour'. But they always said, 'You'd be a pretty good college player.'"
She has yet to become a mainstay on the main tour. She reached her career-high singles ranking of 152 in April 2019, the same year she just missed qualifying for Wimbledon.
"I would say getting into the top 100 is probably where you can find a sweet spot," Lao said, "where you are making money, living kind of comfortably and not really stressing too much about finances and still being able to get what you need to perform."
She has spent the bulk of her career on the ITF Tour, the sport's equivalent of the minor leagues where the total prize money at an event is often less than what a player makes for losing in the first round of a Grand Slam tournament (48,000 pounds at Wimbledon).
She has stayed with friends and host families on the road to save money, budgeting her funds for the essentials: airplane tickets, training and the occasional traveling coach.
"It is challenging," Lao said. "I think by time you get to play some WTA events, you have certain expenses comped, and it helps a little bit. But if you are wanting to bring a coach on the road, you are paying for two people, so it's always a balance. Am I going to operate on a budget or am I going to do this to max out my abilities? But my parents have been very supportive."
Both of Lao's parents are immigrants from the Philippines. "My dad came over to the States when he was 16, my mom came over when she was in her mid-20s," Lao said. "Neither have an athletic background. Tennis was a complete accident. We were on vacation in Mexico. Instead of leaving me at day care, they left me at a tennis lesson."
She did not get to play on real grass until 2017, but she has an excellent one-handed slice backhand and a relatively flat forehand that are both effective on grass.
In 2016, she won a wild-card playoff with partner Jacqueline Cako for a spot in the U.S. Open women's doubles tournament. They lost in the first round, but it was a taste of what professional tennis could be.
Inspired, Lao pushed on and qualified in singles for the 2017 U.S. Open and, just as importantly, the 2018 U.S. Open.
The pandemic, which shut down the tour for several months, could have knocked Lao out of it. Instead, she bought a stationary bike, assembled it with her sister, and focused on fitness before returning to the court and the tour.
After struggling in her recent tournaments, she arrived at Roehampton for Wimbledon qualifying with her new traveling coach, the tour player Irina Falconi. Lao settled into a deep groove and found herself up 6-3, 4-1 on Ursula Radwanska in the final round of qualifying.
"I started to think, oh my goodness, I'm so close to Wimbledon, it's right there," she said.
This time, she calmed her mind and closed out the final set, 6-2. After watching Sampras tear up at Wimbledon, Lao can now relate.
"When I sat down, I covered my face with a towel a little bit," Lao said. "But when Irina and my boyfriend came around, I was, like, they can't see me cry. The tournament's not over yet, and this was a straight setter. This is embarrassing. But that evening, I was thinking about it and joking with them, and I told them, 'It took 23 years to get here guys, but we made it!'"
Win or lose on Monday, one journey is complete.
Source: Read Full Article